East Lansing, Michigan, July 27, 2023 – GiantMouse is excited to unveil the newest model of our ACE line, the Iona V2. Available in Green Canvas Micarta and Black Linen Micarta, this new model takes the beloved design of its predecessor (the Iona) and transforms it into a stout and functional outdoor tool that excels in both action and feel.
The Iona V2 is designed to adapt to the demands of the outdoors – featuring a wider Magnacut steel blade that can efficiently tackle a wide range of tasks while maintaining sharpness. It employs dependable phosphor bronze washers at its pivot, offering a remarkably smooth and effortless blade deployment. The inherent durability and corrosion resistance of phosphor bronze, combined with its self-lubricating properties, ensure your Iona V2 consistently delivers high-performance, adapting to the rigors of outdoor use while requiring less maintenance. The longer, ergonomic handle guarantees a comfortable and secure grip, enabling confident control during use. The thoughtful addition of spine jimping allows for precision in both delicate and demanding situations. Plus, the improved lockbar access allows for quick and easy unlocking, even with your outdoor gloves on.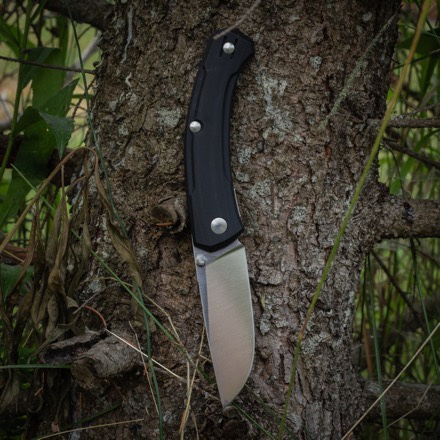 Our inspiration for the Iona's name came from the Iona Bar, a beloved establishment located in Williamsburg, Brooklyn. Not just any bar, the Iona holds a special place in the hearts of the founders of GiantMouse, being owned by a good friend and serving as a venue where many pleasant get-togethers have been held. The naming tradition at GiantMouse Knives extends beyond mere identification – it's a way of infusing each of our products with a unique backstory, reflecting the personal experiences and friendships that are at the core of the brand. With the ACE Iona, you're not just purchasing a high-quality tool, but also a piece of the camaraderie and shared memories that fuel the creative spirit of GiantMouse.
For pricing and full specifications on each variant, visit www.giantmouse.com/ collections/ace-knives/tribeca.