SSD regularly showcases a different MultiCam print fabric from Duro Textiles LLC. This week, we are covering the Defender M fabric from TenCate. MultiCam is a single camouflage pattern designed to hide the wearer in varied environments, seasons, elevations, and light conditions. After a great deal of commercial success and adoption by elements of US Special Operations Forces, in 2010 MultiCam was selected for use by the US Army as its Operation Enduring Freedom Camouflage Pattern (OCP).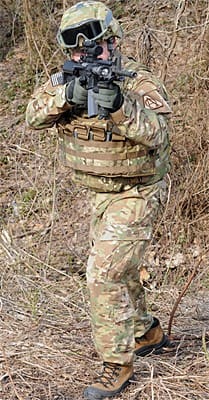 TenCate's Defender M is a 6.5 ounce fabric that balances durability, breathability, and comfort. Additionally, it provides FR protection at the fiber level meaning it won't wash or wear out. Not only does it not melt or drip but also extinguishes in the event of an explosion or flame threat. Manufactured from Lenzing FR Rayon fibers which originate in Austria, TenCate mills the fibers along with other materials to create Defender M. It is then printed by Duro in the MultiCam pattern and used by finished goods producers.
Defender M is used in the manufacture of the US Army's Fire Resistant Army Combat Uniform (FR ACU) as well as the Australian Army's Operational Combat Uniform.
Duro will soon stock Defender M in the MultiCam print making the manufacture of FR garments easier than ever. They offer progressive pricing based on the number of yards ordered. For more information on this or any of the full line of MultiCam fabrics visit www.multicamfabric.com or email [email protected]. Also, stay on the look out for an updated MultiCam fabric website soon.