Colt's Maggie Reese Wins High Lady at Superstition Mountain Mystery 3-Gun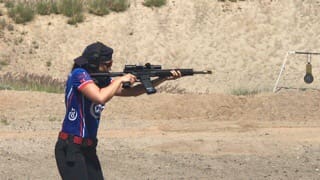 WEST HARTFORD, Conn. (March 31, 2017) – Colt congratulates Team Colt shooter Maggie Reese on taking High Lady over the weekend at the 2017 Superstition Mountain Mystery 3-Gun, in the Open division. The match was held March 24-26 at the Usery Mountain Shooting Range in Mesa, AZ.
"We are so proud of Maggie's success this weekend at Superstition Mountain," said Paul Spitale, Senior Vice President of Commercial Business for Colt's Manufacturing Company. "Maggie has proved to be a top flight competitor in 3-Gun competition, starting the season off with this win is very exciting for Team Colt."
Reese, is a three-time Superstition Mountain Mystery 3-Gun winner, with victories in 2009, 2010, & 2014. She trusted the reliability and accuracy of her Colt LE6920 for the rifle stages of the match, with targets out to 500 yards. Reese competing in open division allows for multiple optics and bipods, with no limit on magazine capacity.
"Having the opportunity to participate in one of the longest running 3-Gun matches in the country is an honor," said Reese. "The event is in its 21st year and always very well attended." Approximately 350 competitors went through the 11 stages. "Throughout it all my Colt 6920 ran flawlessly!"
Reese's next competition will be the USPSA Area 1 Handgun Championship, March 31 – April 2 in in St. George, UT. Visit Facebook.com/ColtFirearms to keep up with Maggie Reese's competitions this year.