Posts Tagged 'Rogue American Apparel'
Monday, October 15th, 2012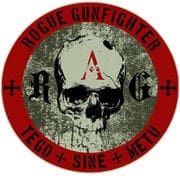 Their motto is, "Fight Fast, Light, Ready be Unpredictable". They apply "reality from experience" to what they do. You might already 'know' Rogue Gunfighter and not even realize it. We've been hearing snippets here and there for months from friends all around the industry. Once you learn a little more, you'll start to put some pieces together like we did. They've got a lot going on and it's pretty exciting stuff.
Rogue Gunfighter, LLC was formed in 2012 by a group of friends who have worked and operated together in some of the worlds most undesirable place to include Yemen, Libya, South American, Europe, Iraq, Afghanistan, the Indian Ocean and Pakistan. Our culture is derived from the "Gunfighter" lifestyle and warrior ethos. We come from diverse backgrounds to include all branches of the US Military Branches to include SOCOM, OGA, Intelligence, Anti Piracy/Ship Protection and High Threat Protection.

RG has worked with some great companies like Troy Industries, TAG, High Threat Concealment, Smith and Wesson, Insight Technologies/L-3, Eotech, LCI, Smith Optics, Rogue American Apparel, Team Wendy and Kill Cliff. We recently finished a fun project utilizing equipment and gear mentioned above.
Let's start off with their armor carrier. The RG Multi-Purpose Operation Carrier. It's a slick, low-profile rig that can be worn over or under clothing depending on the mission. It incorporates load carriage that doesn't get in the way when not in use.
They also offer a removable MOLLE panel for more overt use.
As you can see, they are also working with our friends at High Threat Concealment who have also developed low-profile working rigs that incorporate more than just a pistol and spare magazine.
They're also working on several other projects including –

A low profile med pouch

Lights

Knives

And a low profile clothing line in conjunction with Rogue American Apparel

Naturally, they're going to share their philosophy through training
I'm pretty excited about what I'm seeing here. It's ambitious, but it didn't just happen overnight. They've been working on this for awhile with each guy bringing his piece to the puzzle and they've been refining everything over the last year or so.
Their website isn't quite ready to go yet but be sure to 'like' them on Facebook in order to keep up with their latest news.