Last time we looked at ways that troops can harness power from vehicles either while on the move or stationary. There may be times though when a vehicle or vehicle battery isn't available, or when the tactical situation requires noise discipline that prevents running a vehicle engine.
Besides the audible signature, a running engine also produces a significant thermal signature – and it requires fuel of course as well. Using a field generator also incurs these same drawbacks, as well as the fact that it needs to be transported out to the location in the first place.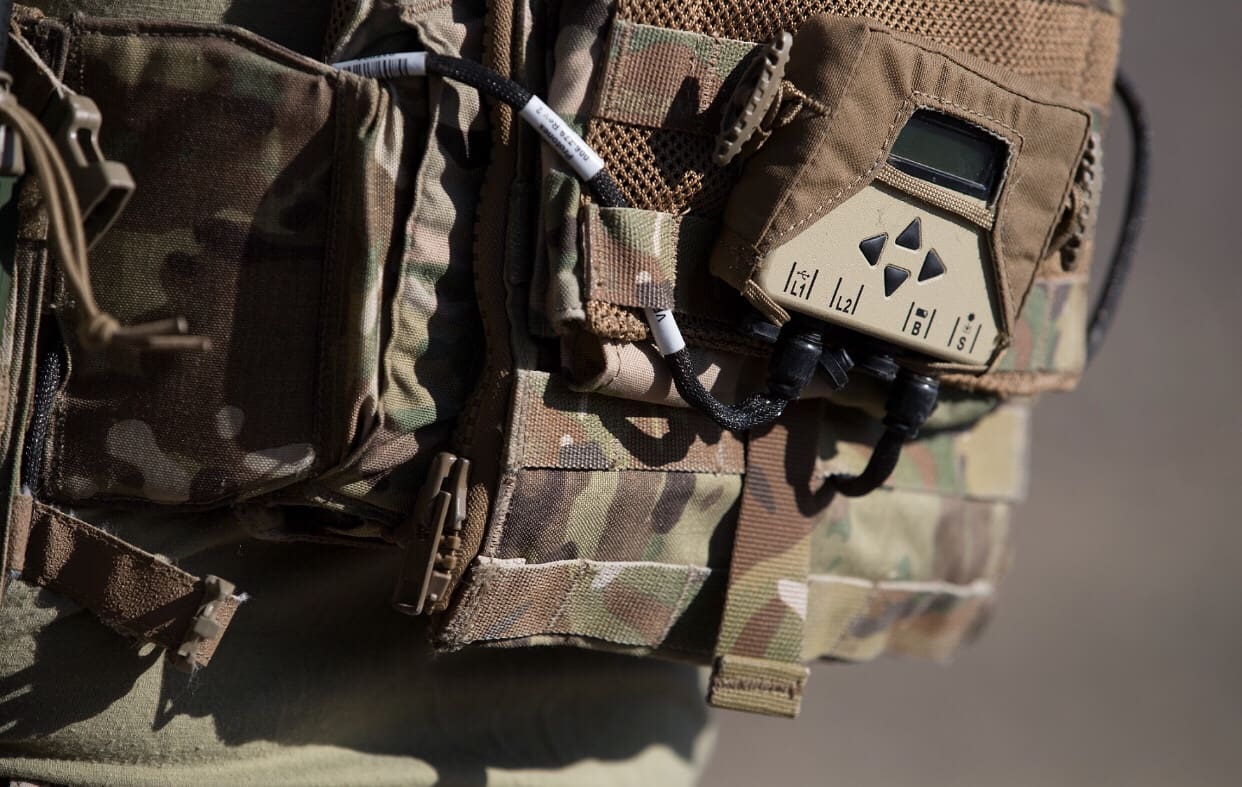 To get around all of these drawbacks the military has been a leading accelerator of portable solar power solutions. Solar power is free, plentiful, and safe and easy-to-use. Because of all this, a lightweight, folding solar blanket is included with every Nett Warrior system, and all PTX power management kits also include a solar blanket as a standard item as well.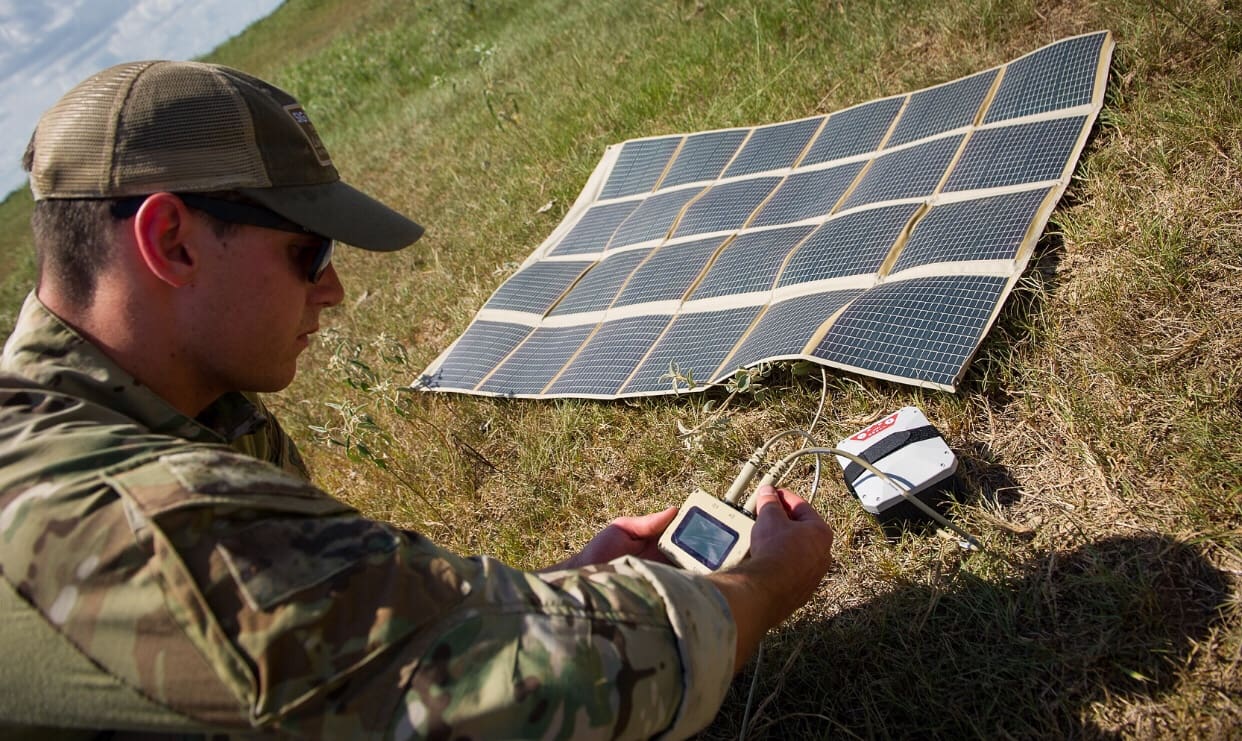 There are nonetheless a few techniques and procedures to bear in mind. First; when connecting a solar blanket to the SPM-622 Squad Power Manager, make sure to plug it into Port #3 or #4 (a sun burst icon is printed on the case next to those ports for extra clarity); then connect a rechargeable battery to Port #1, #2, #5 or #6.  On the PTX VPM-402 Vest Power Manager, the solar blanket is connected to Port "S" and the rechargeable battery to Port "B".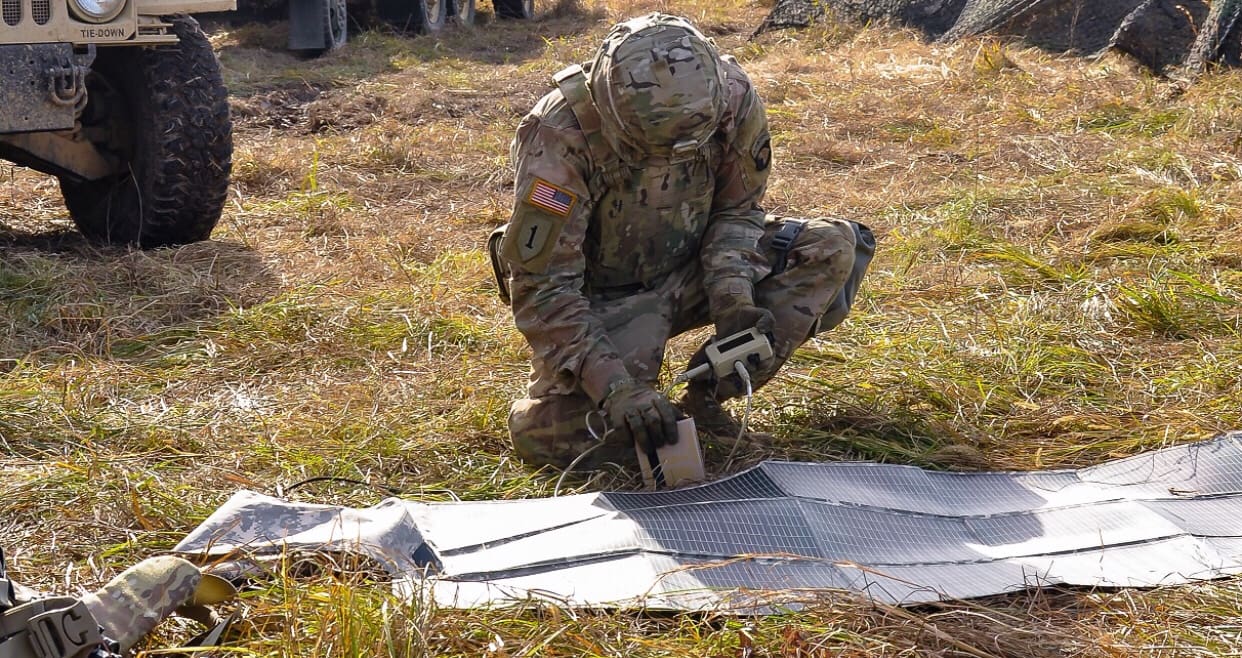 Why does a battery need to be connected as well? Because the sun's power constantly varies but phones, radios, and laptops require steady power, the Power Manager requires a battery in order to "even out" the power generated by the solar blanket. The best battery to use is one that you would want to keep charged anyway – such as a BB-2590 or a Conformal Wearable Battery.
Furthermore; a solar blanket or panel only works in direct sunlight, even a slight amount of shade (or passing clouds) can severely limit the amount of energy the solar blanket can produce. Try to aim the blanket directly at the sun, or to drape the blanket over something to get the best angle on the sun. When the solar blanket is generating at peak output the PTX Power Manager will automatically divert any excess energy to keep the battery charged. If the power output from the solar blanket dips, the Power Manager will automatically pull power from the battery as needed.
Want to know more? Don't hesitate to contact us through www.PTXnomad.com or [email protected] or +1-508-508-9960.