If you're a Pre-9/11 Veteran, the old, green, issue jungle boot holds a special place in your heart. After over 12 years at war, the Army not only abandoned the design that served us for almost 40 years but seems to have forgotten it ever issued them.
Several commercially developed jungle boots have appeared over the years in including designs from the new defunct OTB, 5.11 Tactical, Oakley LSA Terrain and Water Boots and the Rocky design seen below. I've also seen a new design from Bates called the Recondo that is very promising.
Just earlier this year, the Defense Logistics Agency even issued an NSN for a "Fast Drying Boot" to Garmont for the T8 even though it isn't Berry Compliant because there wasn't anything else available in the stock system.
Now, based on the "Pacific Pivot" and the resurgence of the Jungle School (in Hawaii), the Army's PEO Soldier is finally heeding calls from operational forces over the last few years for "Hot Weather Jungle Combat Boots". About a month ago, COL Robert Mortlock, PEO Soldier's PM for Soldier Protection and Individual Equipment began to socialize his office's intent to seek out a new boot. Initially, it sounded as if the boot would be evaluated under the Army's resurrected Soldier Enhancement Program with commercial solutions cherry picked for the requirement. At the time, it sounded as if only two boots would be looked at and one of those had already failed an assessment by the US Army Special Operations Command. COL Mortlock's public comments weren't very encouraging, as they sounded as if the Army had just newly discovered the concept of Direct Molded Sole technology. Mortlock referred to them as "direct attach outsoles" in an Army press release but I don't think he actually knows what that is, considering he discussed a glued sole in his description. Glue comes apart in a Hot Wet environment and you're left with pieces of boots. So that SSD readers know, Direct Molded Soles, or "Vulcanized Rubber" soles aren't glued but rather hot molded into place and were used is the jungle boot as well as the leather leg boot you were issued during Basic training up into the 1990s. Below is a 60-70s model. Later issued leather combat boots swapped out the tread pattern from the chevron seen here, added a padded collar and speed lacing.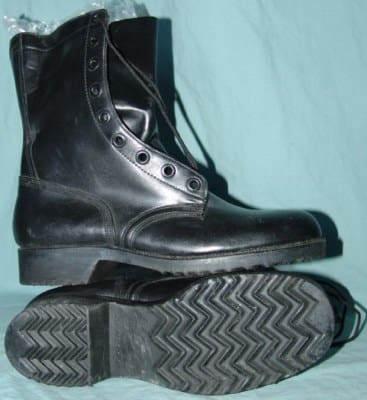 They haven't discovered anything new here. The technology to produce this style of boot sole was developed by a division of Wellco named Ro-Search almost 60 years ago. Unfortunately, almost no one aside from Altama and Wellco still have the machinery to do this because Ro-Search leased, rather than sold, the machines and molds to the various boot manufacturers who supplied the military. When requirements were changed to include more comfortable mid-soles and construction techniques, the machinery was returned to its owners. Once the jungle and desert boots were dropped, the capability was as well.
However, the Army has finally done it right and actually issued an RFI. This Sources Sought Notice allows industry to put their best foot forward and tell the Army how it can fulfill this jungle boot requirement. Hopefully, this will result in an improved requirement when it is actually released.
According to the document:
"The hot weather jungle combat boots must be capable of meeting critical technical requirements, as follows:
1) Durable enough to last 12 months of wear in jungle environments where high humidity and repeated submersion in water are expected;
2) Quick drying and highly breathable, to allow for heat and moisture to exit the boot when worn;
3) Drainage which allows for evacuation of water from the boot while walking;
4) Light weight construction (under 2lbs/boot) with materials that resist water absorption ;
5) A Pronounced heel to allow for improved grip when walking down loose, muddy declines;
6) Tread/Lug pattern that easily sheds mud and debris while walking;
7) Outsoles that provide propulsion and superior traction while allowing for braking and stability moving both up and down wet, muddy slopes;
8) Able to keep mud, sediment, and debris out of boot while maneuvering through water and deep mud;
9) Designed to reduce pressure points and discomfort during descents on uneven, rugged terrain; and
10) Provide for quick break-in."
The list is fairly broad which is good. But, a few points. We don't seem to learn lessons very well which will become clear as you read this. Lessons learned in combat during past wars have been forgotten.
The boot cannot have any padding or linings. In the early 90s, Natick added a padded collar to the jungle boot and changed the color to black. The padding would eventually absorb water if you spent any time in a tropical environment. The black color was for uniformity more than camouflage. At least the leather remained smooth, full grain out leather. The current use of rough out leather can be problematic for use in hot-wet environments. That's a lesson we learned in the Pacific during WWII. Another concern is that companies are going to want to add some form of cushioned midsole for comfort. Please don't. It will absorb water. Speaking of midsoles, I see no requirement for a counter to 'punji stakes'. This form of booby trap is a staple of jungle warfare. We learned this lesson in Viet Nam.
Instead of a midsole, the Army issued a Saran mesh insole insert with the jungle boot that provided cushion and helped keep the Soldier's foot from directly sitting on the footbed in order to help keep the feet dry and increase ventilation. This is absolutely critical in the jungle. Finally, while the requirement is great concerning the capability of the sole, thus far, no one has shown superior performance to the Panama sole created during the Viet Nam specifically to improve traction and shed the mud that builds up in more traditional lug patterns. I for one, am hoping that Altama will offer up their traditional 1960s issue Green Jungle Boot with Panama tread to see how it performs against newer designs.
I'm glad to see that SEP has been reenergized and I'm also happy to see that the Army is seriously looking at jungle equipment. But, I suggest they crack the books and look at what worked in the past and see what might be readopted or adapted.