Last summer, Matt Meyers invited me to the BE Meyers facility just outside of Seattle to see something they'd been working on. Turns out, it was something amazing. Just take a look for yourself.
Meet The MAWL-DA
This is the MAWL-DA and it is going to change the way we look at aiming lasers. MAWL is an acronym for Modular, Advanced, Weapon Laser, and the DA model designation is for Direct Action. Although, DA might be a bit misleading to some, as it incorporates a general purpose head for use in room clearing, out to targets several hundred meters afield.
This Next Generation Aiming Laser incorporates a visible green pointer, an 860 IR pointer, and an array of 3 IR illuminators tied to discrete, environment specific settings. This chart shows how the MAWL's emitters offer a great deal of flexibility to the user.
No more boxes
This isn't another box you attach to your rifle; far from it. The MAWL-DA design conforms to the weapon, tucking just out of the way beside the handguard. If aesthetics alone were all that we judged this device on, it would already be a winner, but it also offers performance and layout unlike anything else in the field.
Design
The team at BE Meyers sat down and took a look at what was already being used in the field and then talked to end-users about what they wanted in a laser aiming device. Next, engineers spent a couple of days actually using those devices in a variety of scenarios under the watchful eye of a couple of subject matter experts. Only then did they put pen to paper in order to create a design. Later, they would regularly conduct additional range training to maintain a fresh point of view throughout the design process.
First and foremost, they didn't want another box that didn't quite fit and required the user to configure his rifle around it. The goal was something that was ergonomic, easy to use, and effectively delivered the right amount and type of light to get the job done.
Another important issue they wanted to address was the current height over bore issue that has been dictating rifle grip for over a decade, in order to get people back to shooting the way that worked for them.
The team also worked to ensure that weapon mounted magnified optics would clear the MAWL. That hands-on range time paid off as they determined the best use of space was put the laser at the 1:30 rail position like many have been doing with light placement. They also meant for MAWL to fit with a SureFire m300 mini at the 3 o'clock rail position as seen in some of these photographs.
They ended up settling on a modular, three component design, consisting of body, tailcap and head. Below, you can see this architecture. It not only hugs the weapon but makes it easy for the user to reconfigure and facilitate upgrades as users develop new requirements. It's also a lot easier to maintain.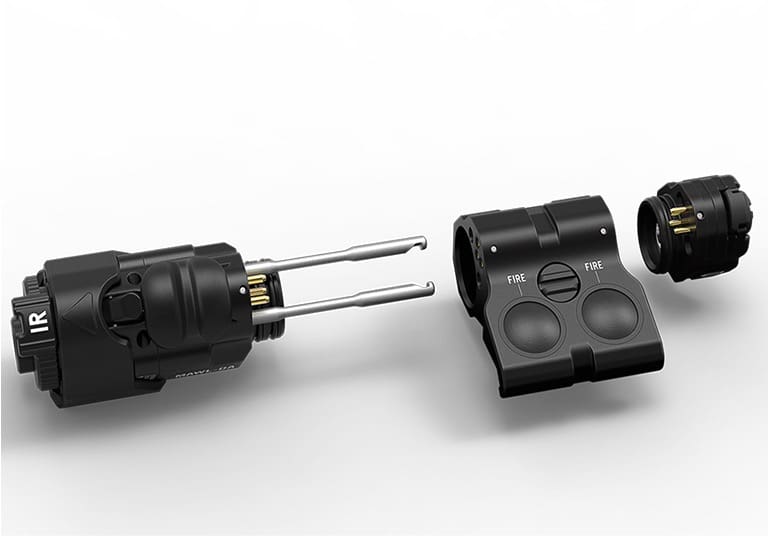 Because so many devices have a complicated combination of buttons and dials, the BE Meyers team worked to make their controls intuitive with the rear "A" button seeing the most use as it turns the emitters on and off. The emitter settings are VIS, IR, and OFF. Within VIS and IR there are three modes, Short Range, Mid Range, and Long Range. These names apply mostly to IR, as they simply raise the power of the green pointer as you go up. There is a thumb switch on the body that controls these modes. Intuitively, the further away you push the switch, the longer the range of the emitter. Additionally, they applied lessons learned from their other programs for emitter selection. For example, when an emitter type is selected, the dial covers the others.
Modularity was key. The device had to be able to adapt to how the user set it up as well as with changing technology. The current body is designed around optimizing space and rail offset on the issue DD RIS II mounted to a USSOCOM Mk18. The architecture also means that other body configurations could be possible depending on market need and feedback.
BE Meyers also considered the supply chain. The MAWL-DA is compatible with any industry standard tape switch designed for lasers, many of which are already out there in supply rooms.
Finally, MAWL-DA is ambidextrous. Due to the modular design, the body can be reversed with the activation buttons right where you need them, at the top of the rail. It even knows if it is configured for right or left hand use, keeping the "A" button to the rear.
Get it while it's hot
The first production run is already spoken for, but don't worry, they're making more, including a version for LE. Civilian models are also planned for the future.
To learn more
By now, I'm sure you've got lots of questions. For those interested in seeing the MAWL-DA in person, visit BE Meyers during SOFIC, in their suite at the Embassy Suites across from the Convention Center.
You can also visit www.bemeyers-mawl.us for additional information or contact [email protected].
Tags: BE Meyers and Co