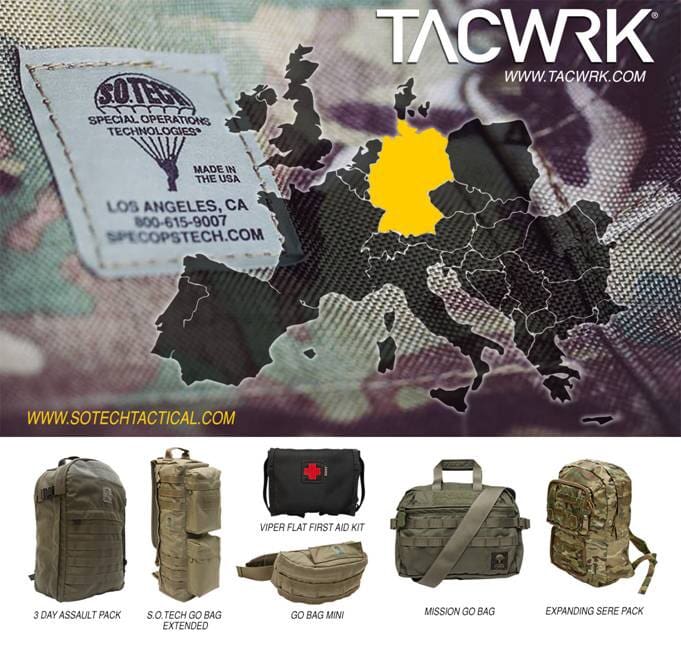 SOTECH is proud to announce the landing of SOTECH tactical gear with our new stocking dealer, TACWRK of Germany. Their showroom and warehouse are located in Schöneweide, Berlin. We are very selective about our stocking dealers, particularly because of our long relationship with German Special Operations. Our Go Bags became a staple in Europe because of their early selection by German SOF, as did our medical systems. We wanted a representative who is reputable, reliable and knowledgeable. TACWRK's team in Berlin consists of former soldiers with experience from Afghanistan – providing background-knowledge to master inquiries, but also showing a commitment to employ veterans – a subject dear to SOTECH's principals. We were also impressed with TACWRK's commitment to German military and police associations with donations and charity-sales.
TACWRK, established in 2011, strives to provide technologically high-end and advanced gear for professionals and gear aficionados. They support military, law enforcement, security agencies, and fire departments, in the GSA-countries: Germany, Switzerland Austria, and throughout Europe.
When ask "Why did you choose to carry SOTech?" they replied "S.O. Tech has introduced gear which quickly turned into milestones and industry standard. This is exactly the kind of innovation TACWRK wants to push and present to those whose work depends on it."
TACWRK now carries the Go Bag, SERE Pack, 3-Day-Assault Pack, Viper Flat IFAK and of course the Battle Bear! Contact TACWRK for special orders of other SOTECH products and custom designs.
Be on the lookout for "the Black Sunday" the first tactical sales event of it's kind, at least in Europe – the BlackSunday: www.facebook.com/160919563963583/photos
Check out SOTECH at TACWRK at: www.tacwrk.com/en/company/showroom
Tags: SOTECH Tactical, TACWRK