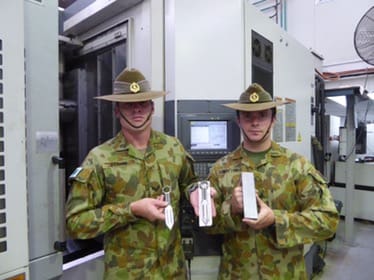 The order for the Nomad Mk2 is a trial for the Australian Army, being conducted by 1RAR and consists of metal live blades and 6061 Aluminium trainers (Army HQ specified Aluminium with a type 2 red anodizing).
The Mk1 had a standard tip on it but the Mk2 has a reinforced tip for penetrating harder targets.
Features:
·100% Made In Brisbane, Queensland Australia
·Steel used is Cryodur 2363 (German made A2 imported in 15mm plate)
·The Nomad weights about 170grams
·A new kydex sheath was designed specifically for the Australian Army to be more compact than standard Mk1 sheath and to fit under a shingle
·Ever knife is machined out of the solid 15mm thick plate steel
·Each knife is one piece (integral) with no separation between handle and blade
·Each knife is heat treated in Brisbane to about 57-58RC
·Each knife is cerakoted in flat black
·The knives are hand sharpened by either myself or Dirty Harry and are all double edged
The knife is currently not restricted to Army purchase and is available for civilian use (without the unit markings).
Tags: ZU Bladeworx Australia