Badger Ordnance continues to innovate in mounting solutions.
Badger Ordnance has several new offerings coming for the first quarter of 2017. First off is their new line of bipod mounts and bipod kits. This line started 2 years ago when an employee with Badger Ordnance made a low profile mount for his Harris bipod to direct attach to his AR-10. Based off his experiences instructing Snipers he'd seen and experienced several Harris mounting plates break or come loose when shooting off barricades.
The new Badger Ordnance Low Profile Harris Mount is designed to replace the current mounting plate and thumbscrew for Harris Engineering swivel style bipods. Made to have a slimmer profile than traditional bipod mounting options while having a much more robust interface to allow barricade braced shooting without fear of breaking the attachment system. Easily retrofit any Harris BRM-S bipod in just a few short minutes. Made from 7075 T6 Aluminum and Type lll Hard Coat Anodized for a lifetime of flawless function. Available for Magpul M-LOK, Picatinny, and Remington RACS style handguards.
Badger Ordnance has also worked alongside Harris to design an exclusive bipod with the leg extension buttons placed on the inside to avoid accidental extension when bracing the bipods against barricades. The mounts can be bought separately as a retrofit for current Harris designs or bought as a package with the new bipod legs.
Also new from Badger is a line of accessories to work in conjunction with their S.L.I.C.K. and other spotting scope integration kits. The Badger K4 and K5 mounts are made to hold any 4000 or 5000 series Kestrel weather meter to the 3 or 9 o'clock position of a picatinny rail. The Kestrel simply snaps in and is held firmly until needed. Made from 2200 series Polyamide and colored Light coyote.
Lastly Badger has released the SPF-60 Spotter Protective Filter- 60 mm Designed to work with the Leupold 12-40X60 Spotting scope (M151) and the Badger Ordnance SLICK spotting scope mount (P/N 306-94). Provides rugged protection to the objective lens as well as allowing reduced light transmission and reducing glare via the variable aperture "Catseye" feature. Cover indexes out of the way for full light transmission or for NV/Thermal integrationPic. Made from 6061 Aluminum, Type lll Milspec Hard coat anodized.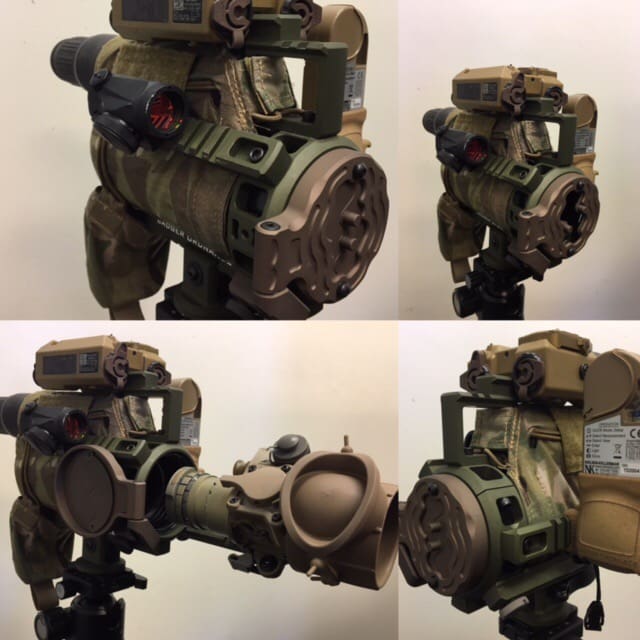 Tags: Badger Ordnance