CMSgt Gene Alcock (USAF, Ret) has long served his country in both the Air Force and industry. These past years, he's continued as a historian, documenting the history of the Combat Control Teams he served on. He recently shared this photo from 1965 which depicts one of the earliest uses of the AR-15 rifle in a combat setting.
USAF NEWS FOR IMMEDIATE RELEASE
HQ, 2D AIR DIVISION (PACAF), APO SAN FRANCISCO, CA 93307
14 OCTOBER 1965 – BONG SON SPECIAL FORCES CAMP, RVN – CCT TSgt Stan Williams, 32, of Erwin, NC "talks in" a C-123 Provider of the 315th Air Commando Group during an airlift of Army of the Republic of Vietnam troops at Bong Son Special Forces camp. The army unit was heading for Tuy Hoa North, after spending more than two months in the field. Watching the aircraft land is TSgt Gene Adcock, 28, of Christopher, IL, another member of the team.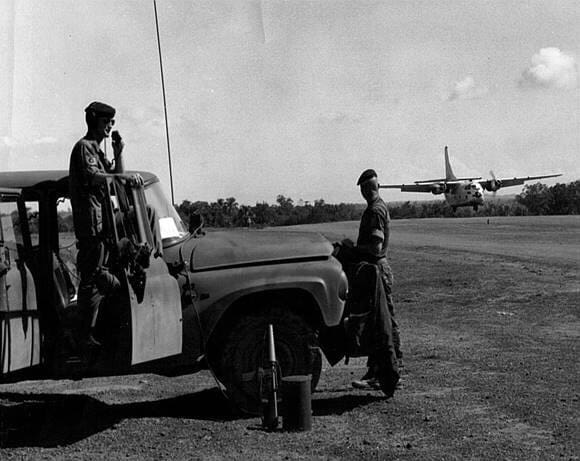 The radio vehicle pictured is the MRC-94. The weapon, an Armalite AR-15 and a B- 2 air traffic control light are shown on the ground at the right wheel.
(Air Force Photo by SSgt B. W. Cook)
Tags: CCT