In the early 1770s, a Connecticut inventor David Bushnell started designing what would be the first submersible. It was a small egg-shaped and less than eight feet tall. Her hull was constructed from two oak shells held together by steel bands and waterproof with a thick layer of tar. It had ventilation tubes, a compass, and a device for determining depth. Attached to the exterior was a primitive bomb. The pilot entered the vessel through a hatch at the top. There were a couple of small glass windows that provided very light and visibility. It was operated by a hand crank that propelled it and a tiller that steered it. The operator also controlled the hand pump that regulated the ballast that submerged and surfaced the craft. Once submerged and the ventilation tubes were closed, there was about 30 minutes worth. It was called "Turtle" because of the two "shells" put together to make it. It is also referred to as Americas Turtle.
In the spring of 1776, about a year into the Revolutionary War, Bushnell wrote to General George Washington asking if the Turtle could be used in defense of New York City's harbor. Washington accepted the offer. Around midnight on 6 September, the Turtle, piloted by Army sergeant Ezra Lee. That's right, the first submarine action by the U.S. Navy was led by an Army guy.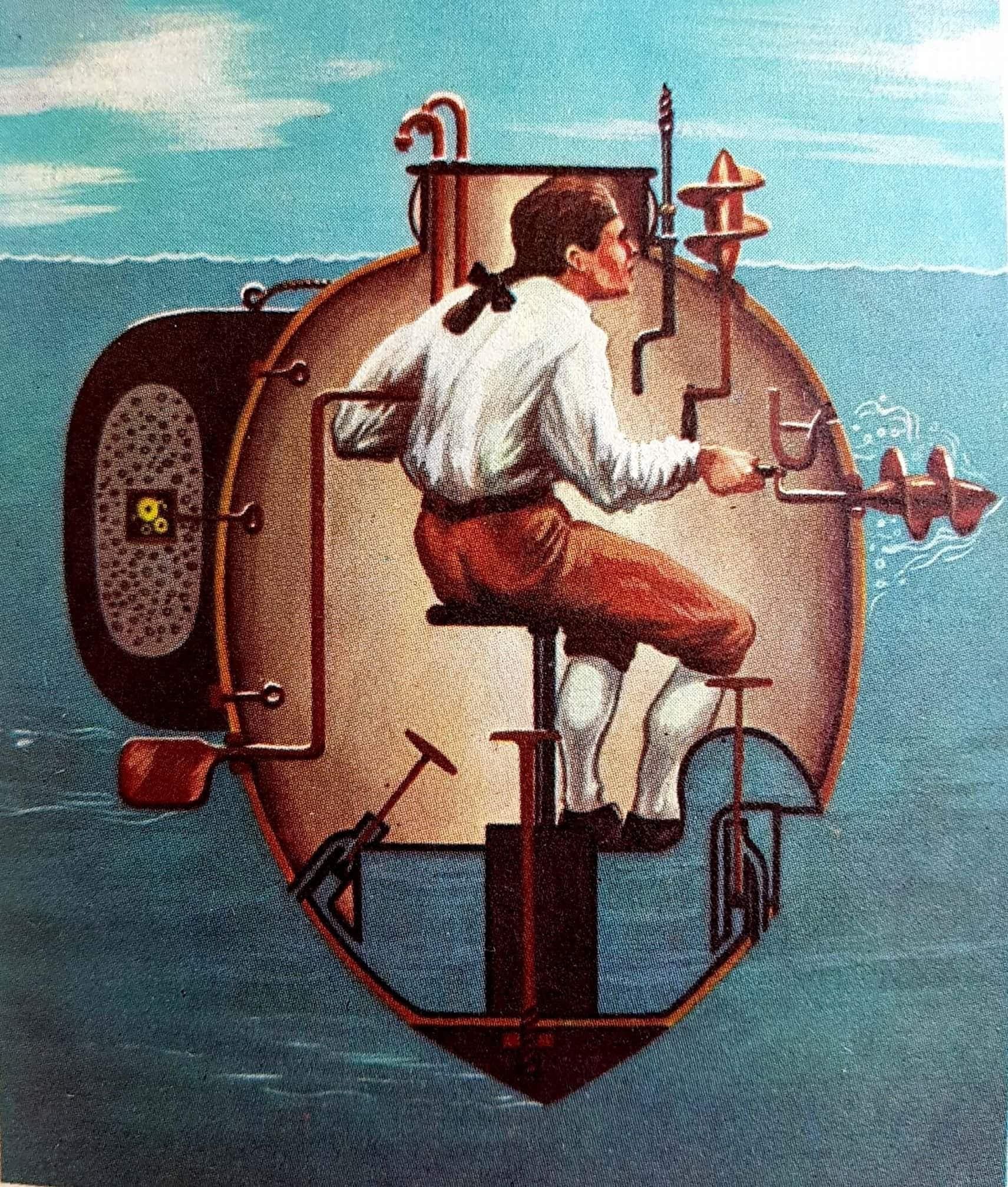 It took Lee two hours to get to his target; a British ship named the HMS Eagle. Once he positioned himself beneath the vessel, he was supposed to drill into her hull using a bit attached to Turtle's top hatch. Once the hole was deep enough, he would anchor his explosive device to the ship's hull. He had about 30 minutes to get away from the Eagle before the charge would detonate. That was the plan, but Lee's bit got stuck in a metal part of the hull. On his second attempt, the Turtle bobbed to the surface and he was spotted. As he headed for shore, Lee released his "torpedo," which exploded harmlessly in the middle of the East River.
Even though Lee wasn't successful in sinking or doing damage to the HMS Eagle (other than a small drill hole) it was the U.S. first attempt at underwater warfare, and it was one of the first in a very young countries Navy. Secondarily the failed attack ultimately forced the British to move their fleet of 200 ships to where they thought was a safer location. The threat of underwater attack kept the British fleet on their toes throughout the war and made them use more resources and manpower to protect their ships then they normally would have. Much like using Special Forces behind the enemy lines in modern warfare. So, it turns out it wasn't as big of a failure as first thought. The basic principles used by America's Turtle still remain valid in submarine warfare today. In recognition of Bushnell's achievement, the U.S. Navy named two submarine tenders in his honor, one during World War I and one during World War II. Inevitably, the ships were nicknamed "Turtle."