Arc'teryx LEAF Assault LT Uniform Featuring Gore Katana Fabric
Although we've mentioned the Assault LT ensemble by Arc'teryx LEAF a couple of times in the past, many don't know that it is made with a fabric developed specifically for he military market by WL Gore & Associates, called Katana.
Katana incorporates ePTFE ePTFE (expanded polytetrafluoroethylene) fiber technology and is lightweight, breathable, fast drying and no melt/no drip making it great for use in hot environments. Essentially, the inclusion of ePTFE in the standard 50/50 NYCO, improves the blend. Arc'teryx further tuned the uniform with 520E Tweave and Cyberknit mesh.
The advantages of Katana are many:
-Low wet pick-up for faster dry time
-Faster dry time with moisture absorption
-High mechanical durability (break & tear strength)
-High strength to weight ratio (weight reduction)
-Low coefficient of friction offers low, wet cling and improved hand
-Tunable with other fiber blends inherent characteristics, like FR
Assault Shirt LT
Features:
-PPE compatible allowing the shirt to be functionally worn with body armour
-Low profile zip neck allowing collar to be worn either open or as a neck protector
-Arm cuff velcro closures allowing for fully enclosed sleeves
-Upper arm zip pockets allowing for convenient pocket accessibility when wearing PPE
-Upper arm IFF Velcro 4×4.5" (w/V-Lite™ retention ring) enhancing the retention of electronic IFF devices
-Daisy chain hard points (in upper arm pockets) allowing for the tying off of mission essential equipment
-Mesh pocket bag liners (upper arm pocketing) allowing for enhanced ventilation and reducing overall apparel weight when the shirt is wet
Assault Pant LT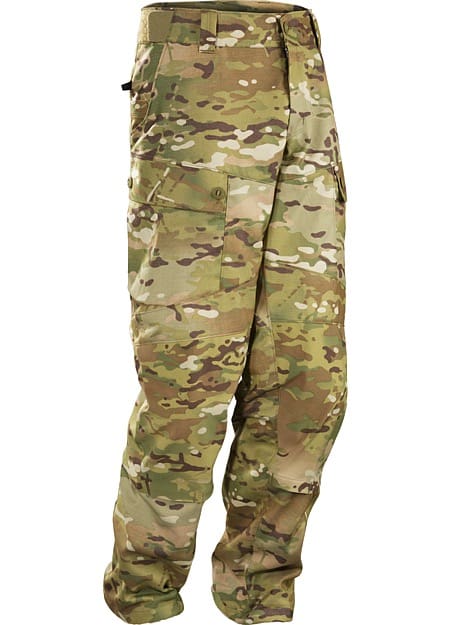 Features:
-Adjustable waist (c.2") allowing for waist sizing flexibility
-Enhanced belt loops allowing for the use of the LEAF Rigger's system
-Retention loops (sewn into waistline) allowing for the tying off of personal items
-Reinforced knees & gusseted crotch allowing for increased durability and enhancing end-user mobility
-Hand pockets (w/internal folding knife pocket) allowing for the secure carriage of a standard folding knife
-Seat pockets allowing for optional/extra storage
-Expandable cargo button pockets capable of providing dump pocket capability
-Draw cord ankle cuff closure (w/vertical retention tunnel for adjustment end) allowing for pants to be worn tightly with boots
-Mesh pocket bag/knee pad insert liners allowing for enhanced ventilation and reducing overall apparel weight when the pant is wet
-Soft knee pad insert capable allowing the end-user an option to insert soft knee pads
Recce Shirt LT
The Recce Shirt LT is made from the same Katana fabric as the other items and features a user removable zipper closure down the front and mesh breathability panels inside the dual chest pockets.
Tags: Arc'teryx, WL Gore & Assoc Inc