FORT BENNING, Ga. — The U.S. is being challenged by a number of near-peer adversaries and, to a certain extent, terrorist organizations, said Brig. Gen. Christopher T. Donahue, Infantry School Commandant, Maneuver Center of Excellence.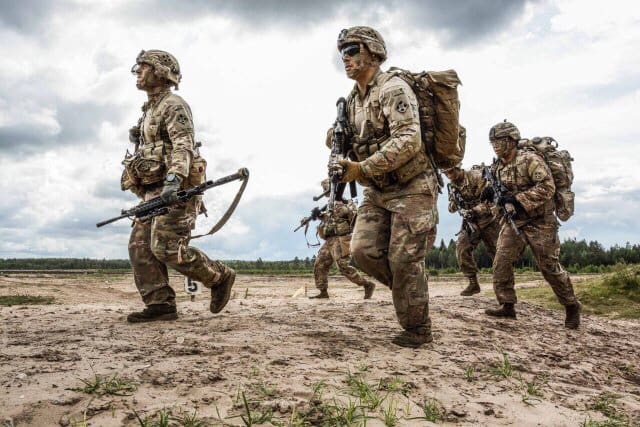 Riflemen with 4th Infantry Division at Rukla Training Area, Lithuania, Aug. 24, 2017. T (Photo Credit: Photo courtesy of Lithuanian Land Forces)
"We still have the capability to defeat them all but we are at a point where we have to improve the mental and physical toughness of the infantry and ensure we're incorporating new technologies and capabilities to ensure we remain the decisive force for the military," he added.
Brig. Gen. Christopher T. Donahue, Infantry School Commandant, Maneuver Center of Excellence, congratulates Soldiers of the 82nd Airborne Division, who won the Best Mortar Competition during Infantry Week, April 2018 at Fort Benning, Ga. (Photo Credit: David Vergun)
Donahue spoke after attending the April 16 awards ceremony for the inaugural Best Mortar Competition. The competition was part of the April 13-20 Infantry Week here.
The general addressed several initiatives that the Army is taking to ensure the infantry retains overmatch.
One of the most fundamental responsibilities the Army has is ensuring that the right people are being selected for the Infantry Branch, he said, describing the infantry as "the 100,000 who close with the enemy."
The Army is doing that through reform of its talent management system, he said. "We want intelligent, physically fit people who are capable of enduring hardships against a near peer."
At higher echelon, the Office of the Secretary of Defense is also examining the attributes of a successful infantryman with its Close Combat Lethality Task Force, he added.
Once these people are recruited into the Infantry Branch, it's important that they master infantry basics right off the bat, he said. "You can't do anything without mastering the basics. You have to be very good at that."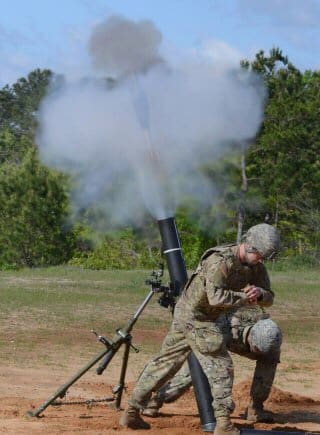 Soldiers compete in Best Mortar Competition during Infantry Week, April 2018 at Fort Benning, Ga. (Photo Credit: David Vergun)
In July, the Army will run a pilot to extend the Infantry One-Station Unit Training out to 21 weeks, he said, explaining that OSUT is the equivalent of Basic Combat Training and Advanced Individual Training.
Lengthening OSUT "will help ensure we're producing the right person that can walk into a unit, ready to fight, win and survive," he said.
In another initiative, the Army will be transitioning to a new marksman qualification test, he said. Soldiers will still be given 40 rounds, but instead of just shooting prone and from a foxhole, they will shoot prone, prone unsupported, kneeling and then standing — all within six minutes. "It will reflect what we think you'll be doing in combat."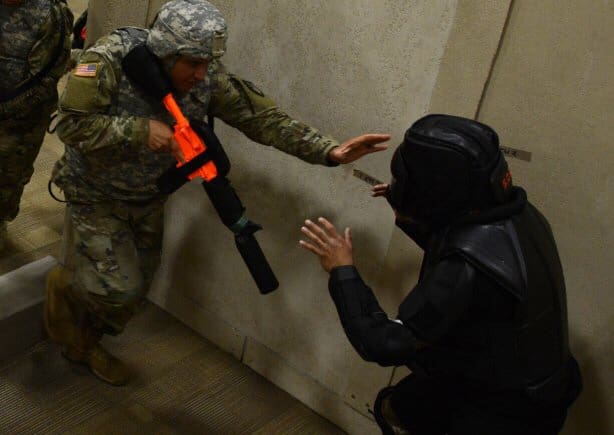 Soldiers compete in the Combatives Tournament during Infantry Week, April 2018 at Fort Benning, Ga. (Photo Credit: David Vergun)
Soldiers will also be trained to fight in austere environments where communications is degraded or denied, he said, terming it a "multi-domain environment" that includes space, cyber, urban and even subterranean battle.
Donahue noted that when he was a lieutenant going through infantry training, Soldiers were taught how to continue the fight despite severed communications with headquarters. "We've got away from that, but we're going back to doing that."
What he didn't learn as a lieutenant, he said, was how to deal with social media that the enemy will use to gain an advantage. That too is being incorporated into the schoolhouse.
To fight and win also means equipping Soldiers with the right technology and capability, he said. Cross-functional teams will be going after that in the new Futures Command.
For instance, virtual reality will enable Soldiers to get a lot more training in than they normally would with live-training only. Virtual training environments allow commanders to run Soldiers through many more repetitions, at no extra cost, before going to validate in a live environment.
Col. Townley Hedrick, deputy commandant for the Infantry School, said that the Army is developing a functional fitness test that will better prepare Soldiers for the rigors of combat.
Hedrick spoke after attending the Combatives Tournament awards ceremony, another Infantry Week event, held concurrently with the Best Mortar and Best Ranger competitions.
While vigorous and repetitive training is important, "when you compete at anything, it makes people up their game to the highest level," he said. "You can train and train and train, but it's actually competition that takes you to that final level of precision and perfection."
Hedrick predicted that there will be more competitive events coming throughout the Army similar to those featured here during Infantry Week.
By David Vergun, Army News Service
(Follow David Vergun on Twitter: @vergunARNEWS)