During this week's NDIA Annual Armament Meeting LTC Steven Power, Assistant Program Manager for Individual Weapons under PM Soldier Weapons, PEO Soldier, briefed current and upcoming Small Arms efforts.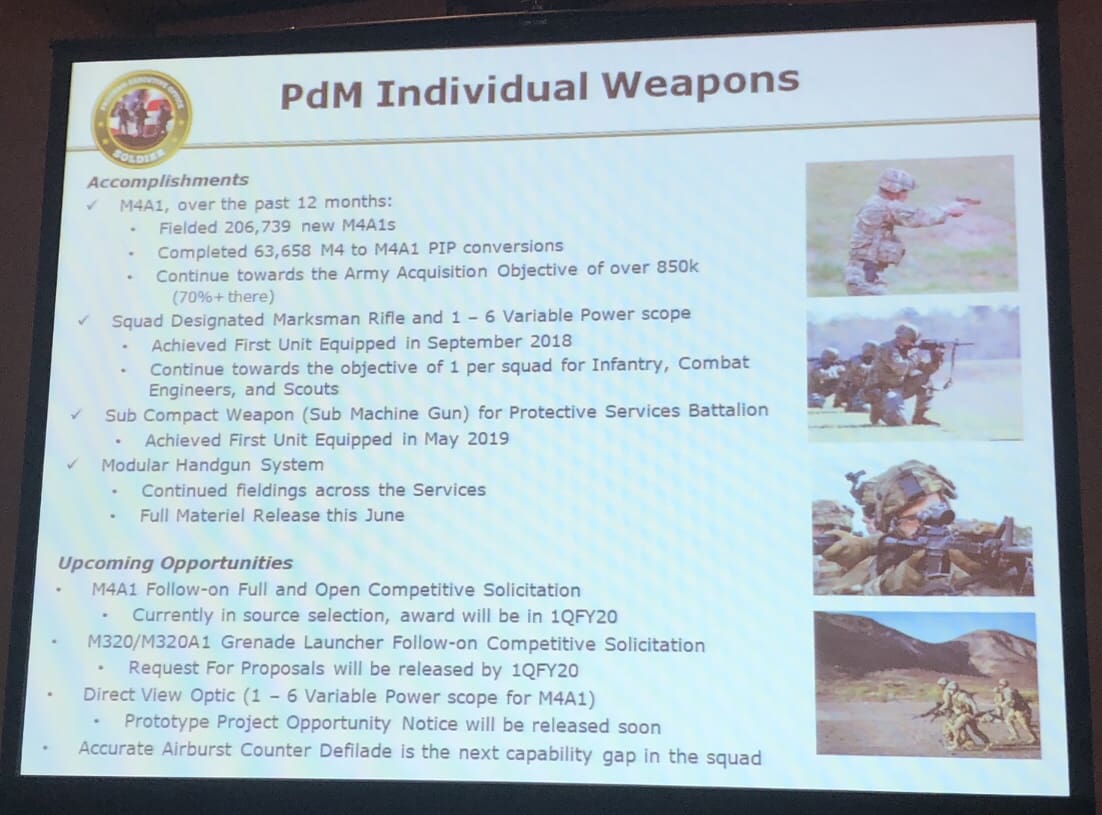 He covered a lot of ground, but the big surprise was that the Army would soon be releasing a requirement for a Direct View Optic which is a 1-6x variable scope. What makes this even more interesting is that these will be used in conjunction with the M4A1 carbine. There has been a great deal of criticism that the Army is ignoring the M4 as it moves towards a next generation rifle. While that program promises a huge leap forward and capability, it is still many years off. It's great to see the addressing addressing near term concerns, and jumping on board with a variable power optic.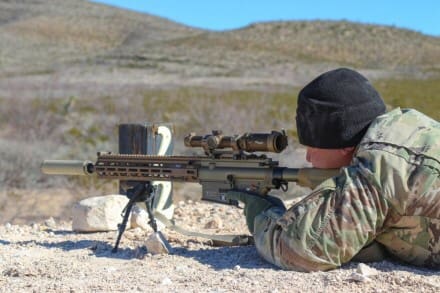 The Army already has some experience with a 1-6x optic. Just a year ago it selected the SIG SAUER TANGO6 for use with the new Squad Designated Marksman variant of the 7.62mm M110A1 rifle, manufactured by H&K. The first 117 of just over 6000 rifles have already been fielded at Ft Bliss. The plan is to provide an M110A1 SDMR to every Infantry, Scout, and Combat Engineer Squads in the Army.
Additionally, the LTC Power provided an update on the M4A1 fielding. They have fielded 250,000 M4A1s in the last year, but the Army finds itself in a position to buy more. An additional contract will be let soon to provide carbines for the next several years. This allows the Army flexibility to procure new weapons to replace those which of been coded out and support sister service requirements as well as military sales, when needed. The Army is currently at 79% of its desired end state of M4A1 modernization and plans to complete the process by FY22.
Just one year ago, the Army announced plans to procure a Sub Compact Weapons for use by personal protective details. Not only did the Army conduct a full competition for these 9mm subguns, but it selected a solution, issued a contract and recently conducted new Equipment Training for the B&T APC9K.
Modular Handgun System fielding is picking up pace as the other services begin fielding along with the Army. As of right now, there are still 335,000 9mm pistols left to field. It is available in two variants, the standard sized M17 and the Compact M18 model.
On the M320A1 40mm grenade launcher side, the Army will soon issue an award for the new Grenadier Sighting System. It will provide day/night capability and facilitate use of a new airburst 40mm round currently under development. The Army has committed $30 million to the first delivery order of GSS. The Army also plans to let a new production contract for additional M320A1s which were designed by H&K but currently manufactured by CAPCOM in Colorado.
Last but not least, LTC Power is leaving PEO Soldier for a year at the Eisenhower School (formerly known as the Industrial College of the Armed Forces) at Ft McNair. He's done a great job and overseen the fielding of several capabilities including the Modular Handgun System.