JOINT BASE SAN ANTONIO-LACKLAND, Texas (AFNS) —
Army Gen. Richard D. Clarke, commander of U.S. Special Operations Command, saw firsthand how Air Education and Training Command officials ensure joint forces are well equipped with ready and lethal special operations Airmen during a visit to Joint Base San Antonio-Lackland Oct. 16.
"This visit shined a spotlight on how AETC recruits and trains all enlisted Air Force special warfare operators," said Lt. Gen. Brad Webb, commander of Air Education and Training Command. "The next generation of Airmen must be lethal and ready to compete, deter and win in an increasingly complex environment, and it starts here in the First Command."
The visit traced the initial skills training path of special operators from recruiting and accessions through basic and technical training.
"The realism and intensity of this training is vital because when these Airmen finish their training, they'll need to address challenges we may not be able to predict," Clarke said. "AETC is training leaders who will be asked to address an ever-changing landscape where the fight we've engaged in since 9/11 may not resemble the threat our adversaries will present in the coming years. The physical toughness, intellectual capacity and ethical core these Airmen are developing during their training will help the Joint Force address the worldwide range of challenges each geographic combatant commander faces."
"Having the agility of mind to understand mission-type orders, to understand commander's intent and be able to move out are essential elements of AETC and the training we provide special warfare Airmen," Webb added.
The path of a special operator starts with Air Force Recruiting Service. To help find the right candidates who can excel through an intense training pipeline, AFRS established the 330th Recruiting Squadron, a specialty squadron whose mission is to effectively scout, develop and guide future special warfare Airmen to their combat calling.
"Our special warfare careers are some of the most challenging career fields we have to fill," said Maj. Gen. Edward Thomas, AFRS commander. "Candidates must meet exceptionally high physical standards and must have the grit and determination to push further and harder."
Enlisted special warfare career fields include combat controllers, pararescue, special reconnaissance, and tactical air control party. In 2019, the 330th RCS successfully increased recruitment 20% compared to their inaugural year in 2018.
Once trainees are recruited, Second Air Force takes the lead, beginning with basic military training at JB San Antonio-Lackland, under the responsibility of the 37th Training Wing.
"BMT sets the foundation for all of the Air Force's enlisted Airmen," said Maj. Gen. Andrea Tullos, Second Air Force commander. "We are aligning foundational competencies to meet National Defense Strategy objectives so our Airmen immediately enhance mission execution when they join their first Air Force or joint team."
While at BMT, enlisted special warfare trainees receive additional physical training and are aggregated in flights together so they can foster the camaraderie needed to prepare them for the next phase of training they enter in the Special Warfare Training Wing, also located at JB San Antonio-Lackland.
"We are training these newly-minted Airmen to meet the demands of the future battlefield," said Col. Mason Dula, Special Warfare Training Wing commander. "We push the limits of human performance and technology to build a stronger, smarter, more lethal force capable of solving the nation's most complex military problems."
Training begins with the Special Warfare Preparatory Course before recruits are vectored into an Air Force specialty code. Depending on their AFSC, trainees move to other locations around the country for schools such as Air Force Combat Dive School, Airborne and Survival, Evasion, Resistance and Escape School. Each course is meant to push trainees' mental and physical abilities to their limits.
"As a tactical air control party, I can attest that this training pushes our Airmen to their limits, but it also prepares them for the reality of the austere environments they will face as an operator," said Chief Master Sgt. Adam Vizi, Second Air Force command chief. "Going through all of the training associated with the TAC-P pipeline ensured I was trained, equipped and ready to deliver timely, accurate and lethal effects on the battlefield."
There are several training pipelines, which, depending on the specialty, vary in length. Airmen who successfully complete training proceed to their operational units and join Air Force special tactics teams or joint forces at USSOCOM.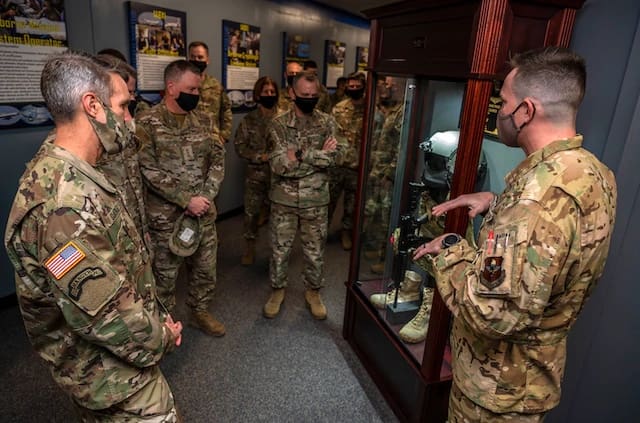 The tour also included a visit to the Career Enlisted Aircrew Center of Excellence. Here, members of the 37th Training Group have established an Air Force specialty code baseline and prepare candidates to complete follow-on flight training programs. The COE staff members prepare graduates for nine AFSC-awarding courses, including four that directly support special operations. After completing the Aircrew Fundamentals Course, students who complete the Basic Flight Engineer, Basic Loadmaster Course or Basic Special Missions Aviation Course attend initial qualification courses that prepare them to be Air Commandos.
"These enlisted Airmen take the training they gain here in the First Command and carry it with them through their operational careers," said Chief Master Sgt. Erik Thompson, AETC command chief. "It is imperative we provide them with the preparation they need to compete in every domain and win for the joint force and the nation."
Story by Jennifer Gonzalez, Air Education and Training Command Public Affairs
Photos by Johnny Saldivar