Today is the 50th anniversary of Operation Ivory Coast, the famous joint service raid deep into North Vietnam to rescue American POWs held by the communists in a camp near Son Tay.
Principally, the assaulters were members of Army Special Forces recruited for a secret mission from units in Fort Bragg and the Aircrews who were responsible for getting them there were Air Force.
The Raiders flew to the target from an Intermediate Staging Base in Thailand on HH-3s and were refueled by HC-130s. An MC-130 served as pathfinder, leading the mission. There was also armed overwatch via AC-130 gunship and A-1E Skyraider. A myriad of other aircraft provided support from afar for the assault element, including command and control, intelligence overwatch and suppression of enemy air defense.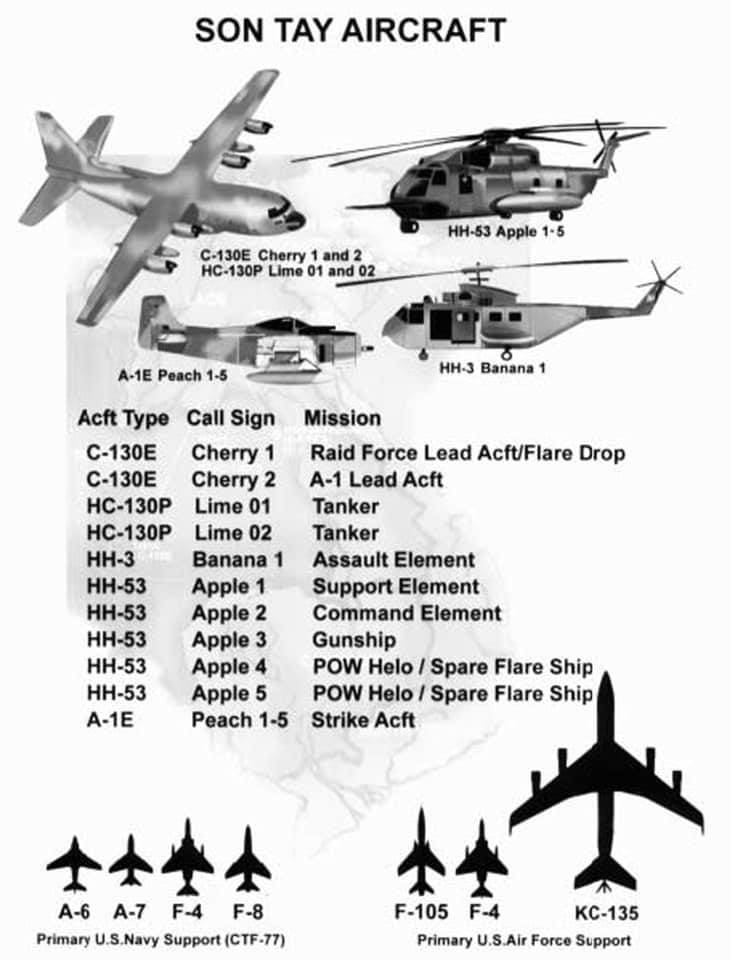 The Navy also played a vital, although unwitting role by flying MIG Combat Air Patrols and conducting deception operations to keep the North's air defense system busy. Thanks to their efforts, the North Vietnamese didn't get one aircraft off the ground that night. Ironically, none of the Navy crews knew what they were doing until was all over.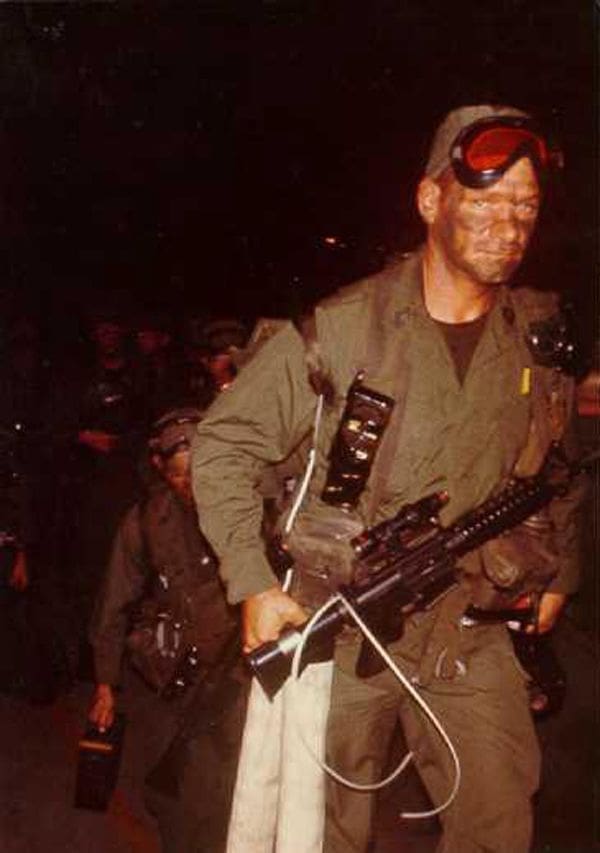 But to get the ball rolling, the task force was assembled at Eglin Air Force in Florida where it trained for the mission in isolation and secrecy. So careful were planners that rehearsals were conducted only when Soviet satellites weren't overhead so as not to alert the communist bloc of an impending operation. They even went so far as to disassemble the target camp in between rehearsals. Planners also had access to 'Barbara', the code name for a scale model of the compound.
Elements and aircraft were assigned code names. All of this secrecy led to the infamous commemorative patch created by the Air Force crews featuring a mushroom with the letters KITD FOHS for Kept In The Dark, Fed Only Horse Shit.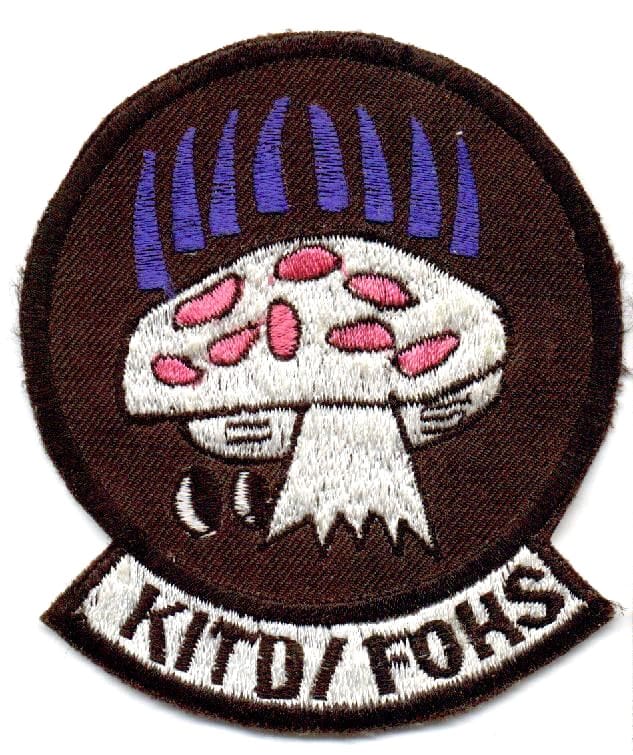 The actual raid was called Operation Kingpin and was initiated when an HH-3, call sign Banana-1, purposefully killed the engine and autorotated into the POW camp, Raiders running out of the stricken aircraft once it came to rest. In all, the ground force consisted of three teams: an assault group, a support group, and a command and security group.
Although the task force succeeded in breaching the compound, it turned out to be a dry hole, the POWs having been moved days earlier. The ground force having spent 28 minutes in the ground.
Despite this tactical loss, the operations proved a strategic victory. The North Vietnamese moved American POWs together and improved their conditions which greatly raised morale.
As you can see, Operation Ivory Coast was a major operation, serving as the template for multiple deep enemy ration raids for decades.
Unfortunately, United Special Special Operations Command had to cancel their event due to COVID-19 restrictions so the Silent Warrior Foundation stepped in and out a great weekend together. It is an amazing event and Silent Warrior Foundation even worked with a Hollywood prop house to recreate the clothing and equipment each man wore on the raid.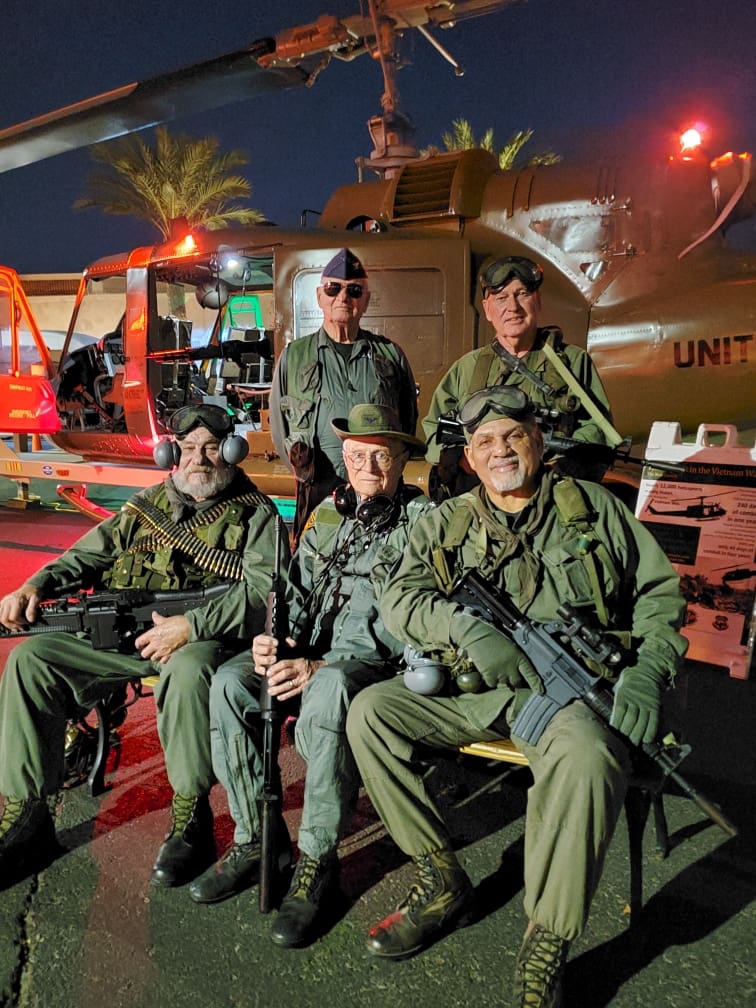 Seen above are Neal Westbrook, Colonel USAF, Ret. Son Tay Raider (Lime 2), Terry Buckler, Sergeant, USA Son Tay Raider (Red Wine), Vladimir "Jake" Jakovenko, Sergeant Major, USA Ret. Son Tay Raider (Green Leaf) John Gargus, Colonel, USAF, Ret. Son Tay Raider (Cherry 2) Tyrone Adderly, Sergeant Major, USA Ret. Son Tay Raider (Red Wine)
There's not enough room on SSD to tell the whole tale and numerous books have been written about the operation like "The Son Tay Raid" by air planner and pilot Col. John Gargus.
However, a new book has just been released, "Who Will Go" by Terry Buckler. It is the first time the tale has been told by a Raider with actual boots on the ground. He was assisted in his effort by CI-author Cliff Westbrook. Author Terry Buckler was there as the RTO for the Redwine element. Even better, he was the "baby" of the group and had not served in combat in SE Asia prior to the assault.
For those of you interested, you can get a copy of "Who Will Go" signed by the Raiders on hand for the event by visiting silentwarriorfoundation.com/collections/gear-accessories/products/signed-book-who-will-go.
During the event, a documentary is also being produced. "Operation Kingpin" can use your support to finish their work.