MARINE CORPS BASE QUANTICO, Va. —
Marine Corps Systems Command is in the process of fielding a modernized version of an intelligence system that provides critical information to commanders on the battlefield.
The Distributed Common Ground/Surface System-Marine Corps is a mobile, secure and integrated intelligence system that Marines can leverage to inform commanders about threats and other information on the battlefield.
"DCGS-MC brings all the information on the battlefield to a central location, where it can then be analyzed to support the commander's decision-making," said Gunnery Sgt. Travis Godley, with DCGS-MC at MCSC.
This new version of DCGS-MC comprises updated computer hardware and software connected to the Marine Corps Enterprise Network. The system includes sensors to collect data, antennas to receive information, and workstations for analysts to review info and produce reports.
The modernized technology also includes a geographic intelligence capability that collects satellite imagery and intelligence information. This enables Marines to create maps and other intelligence products to inform the commander's decision.
"The new DCGS-MC capability is a modern approach for the Marine Corps to perform intelligence tasks," said Master Sgt. John Phillips, an MCSC representative who contributed to the DCGS-MC project. "This system will ultimately make Marines' jobs easier."
MCSC has begun fielding the modernized system to Intel Marines. Phillips projects the first round of fielding to conclude in July 2021 and for the system to be fully fielded by the end of 2022.
Improvements over legacy system
Col. Dave Burton, MCSC's program manager for Intelligence Systems, pinpointed notable improvements the new DCGS-MC has over the original system.
The first improvement involves weight. The system was designed to provide a flexible hardware and software solution to decrease size and power requirements while increasing the capability of Marine intelligence analysts.
The legacy system, fielded from 2014 to 2016, required multiple hardware, including up to four servers. Burton said the newer DCGS-MC decreases the amount of hardware needed for use, reducing the technology's size, weight and modularity.
He said a reduction in weight ultimately increases overall efficiency.
"DCGS-MC is in line with the [Commandant's Planning Guidance] to lighten the load of Marines and modernize the Marine Corps," said Burton. "Instead of having separate servers for individual programs, you can combine a number of different servers into one."
The system also enables increased battlefield mobility, an area of focus in 38th Commandant of the Marine Corps Gen. David Berger planning guidance. Berger emphasized the importance of employing mobile, operationally relevant and relatively easy-to-sustain capabilities.
"This system provides additional flexibility to support tactical operations as we support Marine operations," said Thomas Roebuck, MCSC's product manager for DCGS-MC. "It also provides a much more modern toolset."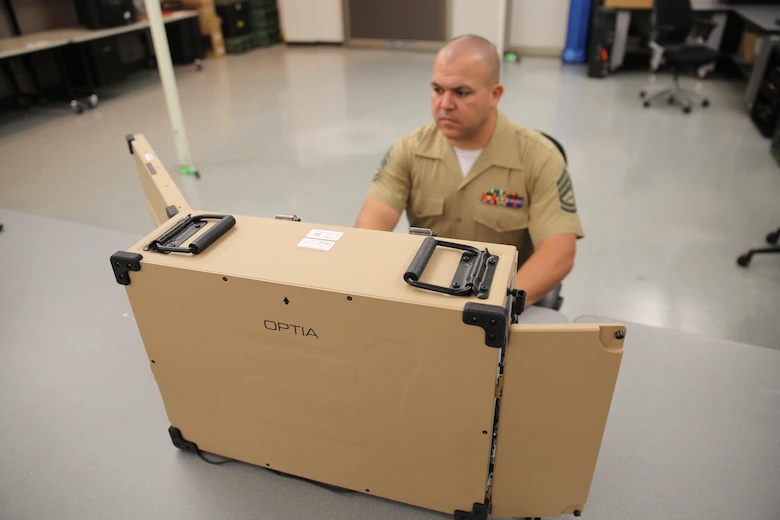 Roebuck said the newer capability also enables users to migrate data to the cloud. He explained that units can leverage the cloud capability to perform various tasks even when disconnected from the enterprise network.
"As we move forward from a technology perspective, [cloud migration capabilities] become increasingly important," said Roebuck. "That allows the information to freely flow in between the tactical user all the way up to the intelligence community."
MCSC also ensured that DCGS-MC was interoperable, allowing Marines to exchange critical information with other services, including the Army, Air Force and Navy. Interoperability fosters collaboration and increased communication among the joint forces, said Phillips.
"Not only are we interconnected with the Marine Corps Enterprise Network, but we can also support the joint mission with the Navy because this technology was designed in a way to be interoperable with Navy intelligence systems as well," said Phillips.
The new DCGS-MC capability is a modern approach for the Marine Corps to perform intelligence tasks. This system will ultimately make Marines' jobs easier.
Master Sgt. John Phillips, an MCSC representative who contributed to the DCGS-MC project
An expedited acquisition
According to a 2016 report, the average major defense acquisition program that reported between 1997 and 2015 took about seven years from initiation to the start of fielding.
MCSC fielded the updated DCGS-MC just over two years after initiation, as the Marine Corps has been implementing new, more agile methods of acquiring products. The expedited acquisition process puts a significant intelligence capability in Marines' hands more quickly, said Phillips.
"The command is at a transition point, where we're looking at more agile methods of acquisition," said Phillips. "We intentionally pursued this acquisition cycle in a condensed timeline, and the end result will benefit all parties involved."
Throughout 2020, MCSC held several user evaluation events for the new DCGS-MC. Marines from 3rd Marine Aircraft Wing and operators from Marine Corps Forces Cyberspace Command tested the equipment and provided valuable feedback the DCGS-MC team used to enhance the capability.
"Seeing Marines interact with this new system and the new capabilities being provided is something incredible to see," said Godley. "Not only Marines interacting with the capabilities, but also bringing up new ways to do things."
Godley explained how the Marine Corps once employed "runners" who collected intelligence information on the battlefield to inform commanders. The modernized DCGS-MC provides this data through electronic means.
"DCGS-MC brings that information back to the commander to make an informed decision while also disseminating it throughout the forces so that lower-level commanders can also make decisions," said Godley. "It allows for all levels of the Marine Air-Ground Task Force to access critical information, which benefits the entire Marine Corps."
By Matt Gonzales, MCSC Office of Public Affairs and Communication, Marine Corps Systems Command