Melbourne, Australia 27th July 2021.
Today the Australian Minister for Defence Industry, the Hon. Melissa Price MP announced a landmark $35m (USD$26.5m) Contract with Australian Company, Aquaterro for the refurbishment of the ADF Tiered Combat Helmet (TCH) fleet.
www.minister.defence.gov.au/minister/melissa-price/media-releases/australias-first-combat-helmet-upgrade-program-starts-victoria
The contract to refurbish the Aquaterro supplied Team Wendy EXFIL (TCH) reflects the confidence the Australian Commonwealth has in Aquaterro's capabilities as a technical inspection and complex programmes service provider. Aquaterro is the Prime Vendor for the Land125.3B Tiered Combat Helmet Program.
As a leading regional provider of soldier and officer worn and carried equipment, Aquaterro is steadfast in its continual strategic investment in product design, development, testing and production capabilities. Aquaterro's commitment to investment in these critical capabilities continues to be evident through its significant expansion across multiple fronts, including recruitment of technical specialists and investment in dedicated infrastructure for the future, long- term commitment of Self-Protection Personal Equipment research and development.
As of July 2021, Aquaterro officially announces the completion of "Building 2" on its Aquaterro Defence Precinct site in Pakenham, Southeast Melbourne. This dedicated Integrated Soldier Systems Center on over 32,000 square feet of industrial land is adjacent to the company's 70,000 square foot headquarters property, which will accommodate the Armour Technical Inspection and Refurbishment Workshop.
The HON Scott Morrison, Prime Minister of Australia, previewed Aquaterro's refurbishment and SPPE capabilities during his visit to Aquaterro Headquarters in May 2021, where the Prime Minister was among the first to see the new Combat Ballistic Helmet Technical Inspection and Refurbishment process, now operating within the new Building 2, Integrated Solider Systems Center.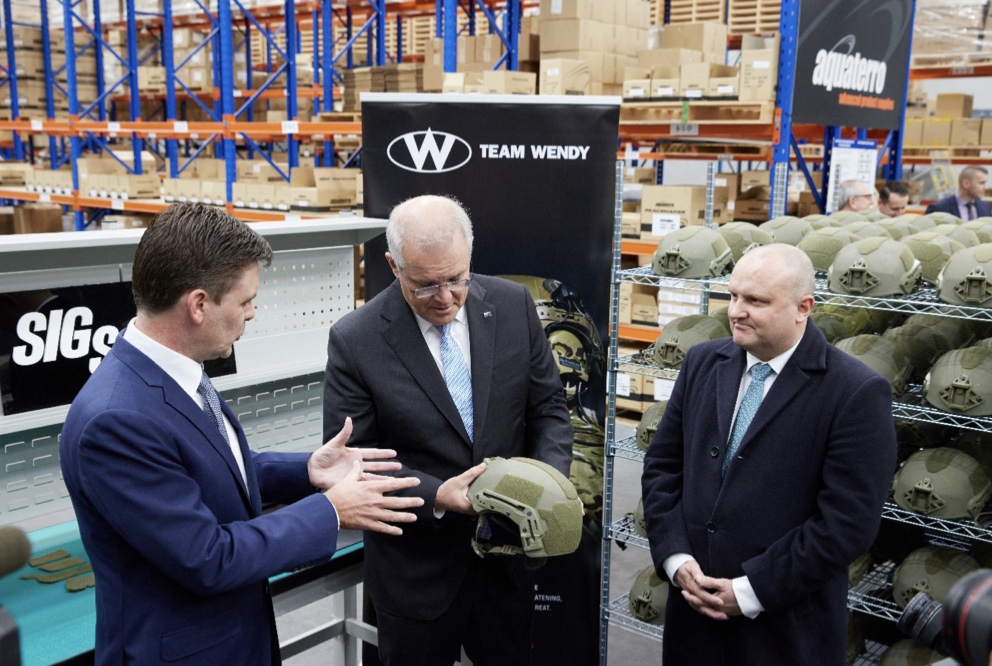 This facility and Aquaterro's capabilities will continue to enable the ongoing development and production of operationally relevant Integrated Soldier Systems and Small Arms programs capability for Australia's sovereign defence industry.
The Team Wendy EXFIL Tiered Combat Helmet (TCH)