MINNEAPOLIS-ST. PAUL INTERNATIONAL AIRPORT AIR RESERVE STATION, Minn. —
Two rounds to the chest and one round to the head.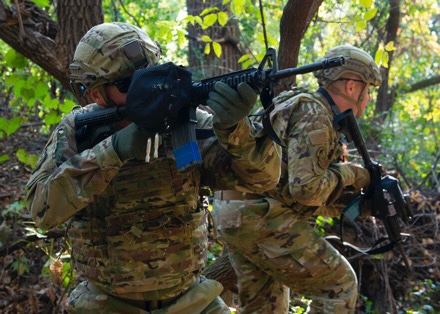 934th Aeromedical Staging Squadron Airmen engaged their targets using this shooting method while working in two-person teams with M4 carbines at the new Shoot, Move and Communicate course at Minneapolis-St. Paul International Airport Air Reserve Station, Minnesota, in October.
This close-quarter shooting method is called the Failure Drill. This technique isn't a critique of a shooter's performance or a countermeasure to succumb from a weapons malfunction. Instead, it is more of a failure on the engaging target's ability to return fire after receiving two rounds to the chest and one round to the head. Furthermore, adversaries are now wearing body armor. Therefore, the final round is needed to permanently neutralize the danger.
Tech. Sgt. Charles Foster, 934th ASTS section chief of medical records, was invited to run through the new course with other ASTS Airmen. The lane structure and design were a complete mystery to him. "From word of mouth, what they had set-up here, I knew that it was out in the woods and they had a bunch of different targets with contact areas." After going through the course five times, Foster said, "I didn't know they had this amazing of a set-up."
The 934th Security Forces Squadron spent most of the year building this course and making needed improvements to provide a viable training opportunity for Airmen. Before the SMC course was built, the area was a dense tree wood line with a lot of deadfalls. 934th SFS members used the base overlay to determine where the property started and ended before committing to this project.
Preceding the new course, Defenders used to maneuver between multiple 4 x 8 sheets of plywood to engage one target on a service road. The overall intensity of this course was limited due to its scale, aesthetics and allure. The SFS Defenders worked with what they had to conduct training; however, they wanted an attractive, resilient and motivating course. What they needed was an extreme course makeover, and they needed it right away.
"This whole plan fell on that cliché: design on a dime. Everything here was either from the forest naturally or donated wood from the Marines, Navy or actually from a stockpile here from pallets and things," said Master Sgt. Kory Soderquist, 934th SFS chief of training.
Soderquist and a group of SFS Airmen and civilians volunteered to be the project managers and architects of the new course. The first thing that had to go was the flat single straight-lined lane. The new course would curve and have an upper and lower path for more Airmen to go through. Instead of engaging one single target, Airmen now have 56. Some targets were placed in plain view and others were camouflaged in a dense thicket. This forced Airmen to quickly scan their lane and rapidly react. To provide a sense of realism in an austere environment, the SMC was placed in a densely forested area. As a result, teams can't see the course before they begin.
"My Defenders basically took a hopscotch board and added a roller coaster to it," said Lt. Col. Charles Trovarello, 934th SFS commander. "I was incredibly impressed with how they utilized the space because when you first looked at it, you think you can't possible do anything more from what we already had set up."
"It is definitely one of those places we want to showcase because it's so new," said Soderquist. "It's also really functional, easy to go through and easy to clean up. Basically, it's zero maintenance when you have it up and running. You can run about 170 Airmen through it. It seems flawless and we have all the safety hazards out of the way. We haven't had a single hang-up. It's been good." #ReserveReady
By Chris Farley
(Farley is assigned to the 934th Airlift Wing public affairs office.)