SIG SAUER has just announced the commercial sale of the MCX-SPEAR in .277 SIG FURY. This is a very cool opportunity. Aside from full-auto capability, you're able to buy the very same rifle currently being offered to the US Army, and the Army should make its decision soon on a new suite of weapons to replace the M4 Carbine and M249 Squad Automatic Weapons currently used by its close combat forces.
One of only two contenders left in the US Army's Next Generation Squad Weapons program, the MCX-SPEAR is also currently under evaluation by numerous friendly foreign forces in .277 SIG FURY (6.8x51mm), 6.5 Creedmoor, and 7.62x51mm NATO.
It combines the modularity of the AR-style firearm you are already familiar with, with a piston-driven operating system, allowing the user to quickly reconfigure the weapon between the three calibers already mentioned via barrel swap. There's also the original version of the MCX in circulation, having already been adopted by forces around the world in 5.56mm, 7.62x35mm (.300 BLK) and 7.62x39mm.
There are nearly one million M4 Carbines in the US Army inventory, and the NGSW program's stated goal is to field just over 100,000 weapons, so there are going to be a lot of troops still carrying the legacy gun. With the versatility of the MCX family, it's not hard to imagine additional upper receiver groups in 5.56mm NATO helping to modernize the Army's entire inventory of Carbines to a piston-driven system. Already, USSOCOM has adopted an MCX upper variant to satisfy its 5.56mm Suppressed Upper Receiver Group program which began fielding last year.
The .277 SIG FURY cartridge fired by the MCX-SPEAR is a commercially available version of the same hybrid case round SIG Ammo developed to satisfy the Army's requirement to propel a 6.8mm projectile at a high velocity in order to provide America's Soldiers overmatch against threat small arms.
Additionally, you're getting their latest SLX Suppressor. Between the 13″ barrel and suppressor, this is a two-stamp gun.
If you want to keep it as currently in use, you can easily pair it with the SIG Optics TANGO6T which has been adopted by the US Army for use with both the M4 Carbine and M110A1 Squad Designated Marksman Rifle as well as by USSOCOM as part of their Squad Variable Power Sight program. It has also been used on NGSW candidate weapons during Soldier Touch Points.
Along with the photos above, here's a clip from a range session with the MCX SPEAR shot last year during a writers event at SIG Academy.
As you can see, it packs some oomph but is controllable, even during full-auto fire.
Here is SIG's full press release:
NEWINGTON, N.H., (January 13, 2022) – SIG SAUER is proud to announce the official expansion of the MCX series of rifles with the new MCX-SPEAR chambered in 277 SIG FURY. The MCX-SPEAR was developed with direct input from U.S. warfighters to provide more power, distance, and accuracy to replace the current M4 rifle platform. The MCX-SPEAR is now the most innovative and advanced AR platform in the world.
"This is a rare opportunity for passionate consumers to own a piece of history," began Ron Cohen, President & CEO, SIG SAUER, Inc. "This first production run MCX-SPEAR, and all of the revolutionary technology behind its development, is being offered to the commercial market in a configuration that is a near match to our NGSW-R submission. Further, this is the only rifle submission to the program that is designed and engineered in the United States by a company with the manufacturing scale and proven adherence to military-grade quality requirements – which is a tremendous source of pride for everyone at SIG SAUER."
The MCX-SPEAR is an adaptable multi-caliber rifle (277 SIG FURY, 6.5 Creedmoor, 7.62 NATO, with barrel change) featuring rear and side non-reciprocating charging handles, 6-position folding stock, ambidextrous fire control, bolt-catch, and mag release, 2-stage match trigger, 2-position adjustable gas piston, a lightened free-float M-LOK™ handguard, a full-length picatinny rail, and ships with (2) 20-round magazines.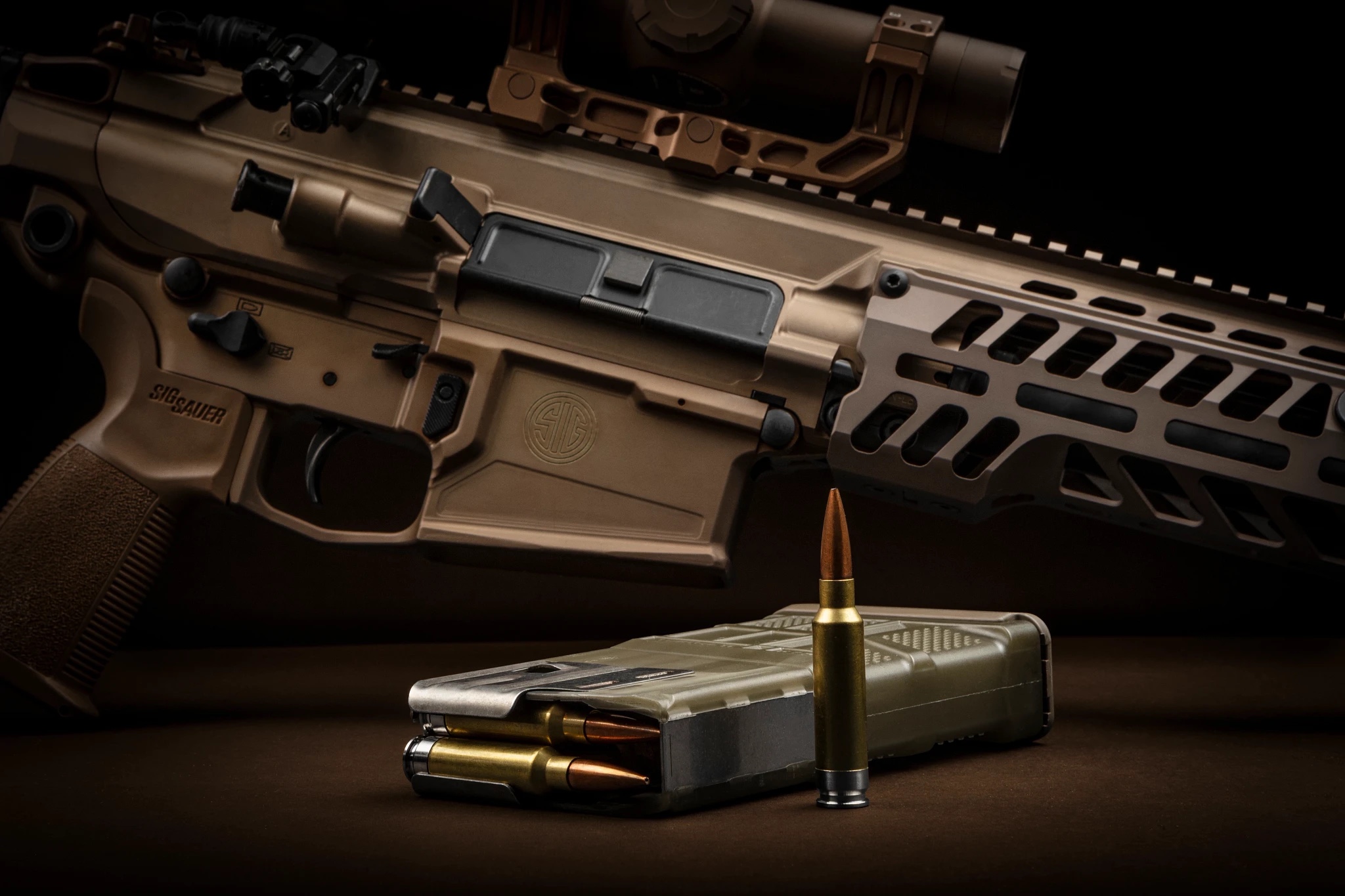 The 277 SIG FURY ammunition is the commercial variant of the 6.8 x 51 hybrid military round available in the hybrid case technology submitted to the U.S. Army NGSW program. Also available is a 277 SIG FURY FMJ traditional cartridge round available.
"The final component of this special-edition offering includes the SLX Suppressor. The design of the SLX suppressor is optimized to dramatically reduce harmful toxic backflow and features our patented QD attach/detach system making installation of the suppressor a game-changing level of ease," said Cohen.
The SIG SAUER SLX Series of suppressors are designed to drastically reduce toxic fume inhalation by the end-user and sound reduction and are available commercially for 5.56, 7.62 NATO, and 277 SIG FURY calibers. The SLX suppressors feature a monolithic core construction in Inconel, an internal multi-flow path to exhaust gases at a higher rate resulting in lower toxic fume inhalation, a sound reducing baffle design, a flash reducing end cap, and are available with either the new Clutch-Lock QD mounting system for easy install and removal that offers an intuitive tactile locking ring with infinite radial locking positions, or direct thread.
MCX-SPEAR:
Caliber: 277 SIG FURY / 6.8 x 51
Overall length: 34.1 inches
Overall height: 7.97 inches
Overall width: 2.98 inches
Barrel length: 13 inches
Barrel Twist: 1:7
Weight (w/magazine): 8.38 lbs.
SIG FURY Ammunition:
277 Sig FURY 135 Gr FMJ Bullet – Standard Brass Case
277 Sig FURY Elite Series Accubond® 150 Gr Nosler Accubond Bullet – Hybrid Brass/Stainless Steel Case
SLX Suppressor:
Caliber(s): 5.56 or 7.62 NATO
Finish: High Temp Cerakote
Core Material: Inconel
Diameter: 1.67in.
Overall Length: 5.24in./7.49in.
Weight: 8.8oz -19.4oz.
Attachment Type: Clutch-Lock QD™ or Direct Thread
The MCX-SPEAR, 277 SIG FURY Hybrid Ammunition, and SLX Series Suppressors are now shipping and available at select commercial retailers. To learn more about the SIG SAUER submission to the U.S. Army's Next Generation Squad Weapons Program or the products visit sigsauer.com.
-Eric Graves, Editor