Sterling, VA: Answering calls from outdoor enthusiasts of all types to make the environmental inoculation and performance-enhancing powers of IcePlate Curve available beyond military, law enforcement, and commercial enterprise users, Qore Performance, Inc., is releasing the newest addition to their popular IMS (IcePlate MOLLE Sleeve) line: IMS Sport.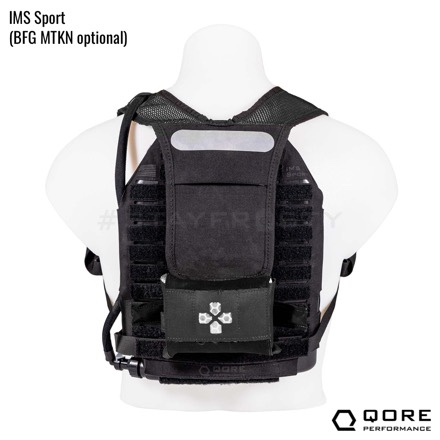 IMS Sport provides the duty-grade thermoregulation and hydration for which IcePlate is known, but in a slim and ergonomic backpack-style form factor that is just as easily worn under a jacket as it is over a moisture-wicking t-shirt or even bare skin; ideal for year-round use in skiing, snowboarding, hunting, hiking, SUP, range safety, and more. Crafted with their unique IcePlate EXO (ICE) laminate for an incredible strength-to-weight ratio, IMS Sport powers athletes in every outdoor environment.
"IMS Sport brings our vision to Build A Superhuman Future one step closer," says Justin Li, Qore Performance Co-Founder and CEO, "by unlocking the incredible power of IcePlate Curve for outdoor enthusiasts. The positive physiological boost provided by IcePlate Curve is unmatched. This is the next frontier in human performance and IMS Sport now makes this capability available to a whole new segment of the population."
Available in Blaze Orange, Range Red, Obsidian Black, Royal Blue and Safety Yellow, IMS Sport is in-stock and shipping now. IMS Sport Sleeve and IcePlate® Curve are 100% Made in the USA from US materials.
As the inventors of specialized and consumable thermoregulation for PPE users, Qore Performance bridges the gap between human and machine. Their IceAge Ecosystem protects over 30,000 daily active enterprise safety users. In addition to their military, law enforcement, and civilian customers, dozens of America's Fortune 1000 companies including Dutch Bros Coffee, Boeing, Charlotte Area Transit System, Marathon Petroleum, Valvoline Instant Oil Change, Costco, and FedEx, depend on Qore Performance to safeguard their teams in the field. Qore Performance enterprise customers have worked over 4,000,000 hours since 2017 without a single heat injury.
IMS Sport:
www.qoreperformance.com/collections/travel/products/ims-sport-combo