FORT WALTON BEACH, Fla. —
Air Force Special Operations Command and the Global SOF Foundation co-hosted the annual Special Air Warfare Symposium [SAWS] and expo at the Emerald Coast Convention Center Feb. 28 to Mar. 2, 2023.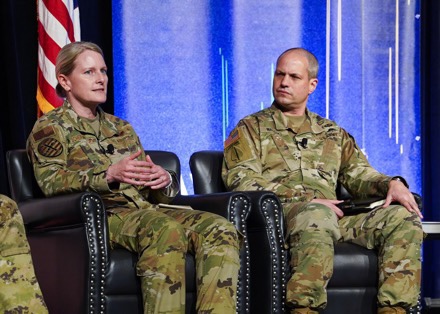 The symposium featured speakers from across the special operations aviation community that included AFSOC senior leadership, defense officials, industry representatives as well as allies and foreign partners from more than 10 countries that were focused on integration and cooperation to remain relevant as the threat environment continues to evolve.
U.S. Air Force Maj. Gen. Wolfe Davidson, AFSOC deputy commander, delivered opening remarks to symposium participants.
"The threat environment continues to evolve across the globe and we now have contested environments in areas previously not considered high risk due to the continued proliferation of threat systems," said Davidson. "This [symposium] is an opportunity to get closer to our industry partners who are doing greats things in technology and are critical as we look to adapt our tools to the fight we have."
Military and industry speakers identified an on-going need to collaborate to prepare, prevent, and prevail against current and future adversaries over the course of the 3-day event.
"We must continue to adapt and look for opportunities to innovate and transform our Air Commandos to remain the most capable, most lethal Air Force in the world," said U.S. Air Force Lt. Gen. Tony Bauernfeind, AFSOC commander. "AFSOC, alongside our industry partners, has been transforming…and we continue to look for opportunities and avenues, like the Special Air Warfare Symposium, to do so."
The ongoing transformation of AFSOC involves a new force generation cycle, the implementation of mission command, the development of Special Operations Task Groups and Units as well as creation of multi-domain theater-focused squadrons.
"Although change can be difficult, irrelevance is worse," said Bauernfeind. "We have a proud history and heritage of transformation to meet the mission…and we too shall rise to ensure our nation's security."
By TSgt Jonathan McCallum, AFSOC