HAYMARKET, Va. (August 5, 2022)—SK Customs® gives back to honor those who have sacrificed and served for our great nation by launching the 240th Anniversary Purple Heart Commemorative firearm on their behalf. This limited-edition design of the Government Model Colt 1911 Series 70 chambered in .45ACP has been created in honor of the Military Badge of Merit, the modern-day Purple Heart Medal and those who have received it.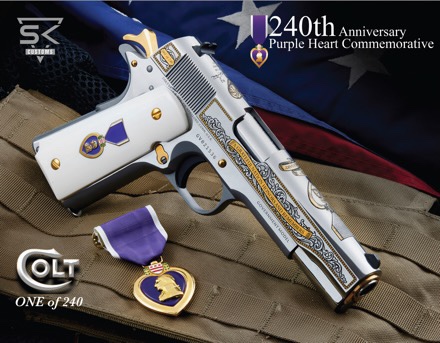 The origins of the Purple Heart Medal trace back to August 1782 (240 years ago) when General George Washington issued the Badge of Military Merit. This medal was bestowed whenever any singular meritorious action was performed. In 1932, the award was reintroduced as the Purple Heart Medal to commemorate bravery and wounded soldiers. Today, the Purple Heart is awarded for a wide variety of injuries; this includes combat injuries and deaths, those wounded in acts of terrorism and other reasonings.
Highlights of the Custom Colt 1911 Series 70 include:
• Each pistol has been designed to display a custom medallion of the modern-day Purple Heart Medal set into bright white faux ivory grips.
• The slide contains custom 24K gold scroll, shading and inscription of the quote "SOME GAVE ALL, ALL GAVE SOME" dedicated to those who serve.
• The rear panel of the Colt 1911 displays George Washington's Coat of Arms while the reverse has the quote of "A GRATEFUL NATION HONORS AND REMEMBERS", both in 24K Gold.
• The top of the slide has been designed with an authentic purple sapphire front sight, modern day Purple Heart Medal, 24K gold ribbon, and George Washington's Badge of Military Merit and signature.
• Further gold plating with high polishing has been placed along the slide, frame flats, slide, barrel and hardware.
• Each model has been engraved with a special edition number 001of 240 in 24K gold on the rear panel
In addition to these features, each pistol will also be accompanied by an uncirculated West Point Minted National Purple Heart Hall of Honor 2022 Proof Silver Dollar with the West Point "W" mint mark and a certificate of authenticity singed by the Director of the U.S. Mint.
"We commemorate our nation's heroes who have served and sacrificed their lives for our great Nation," said Khiabani. "I am elated to pay tribute to those have served by releasing this stunning limited-edition firearm and our SK Give Back initiative."
SK Customs has partnered with and will be donating a portion of the proceeds raised by the sale of this Limited-Edition production to Purple Heart Homes and Purple Heart Integration Project in addition to a pistol to each foundation for their upcoming fundraisers.
Firearm enthusiasts and gun collectors can begin pre-ordering the custom Government Model Colt 1911 Series 70 for $2,900. Shipping begins Q4 of 2022.
To learn more about SK Guns®, and SK Customs®, visit skguns.com. ?