KUIU Vias 2.0 and KUIU Verde 2.0 designs have been modified and are being released as updated Water Transfer Printing films.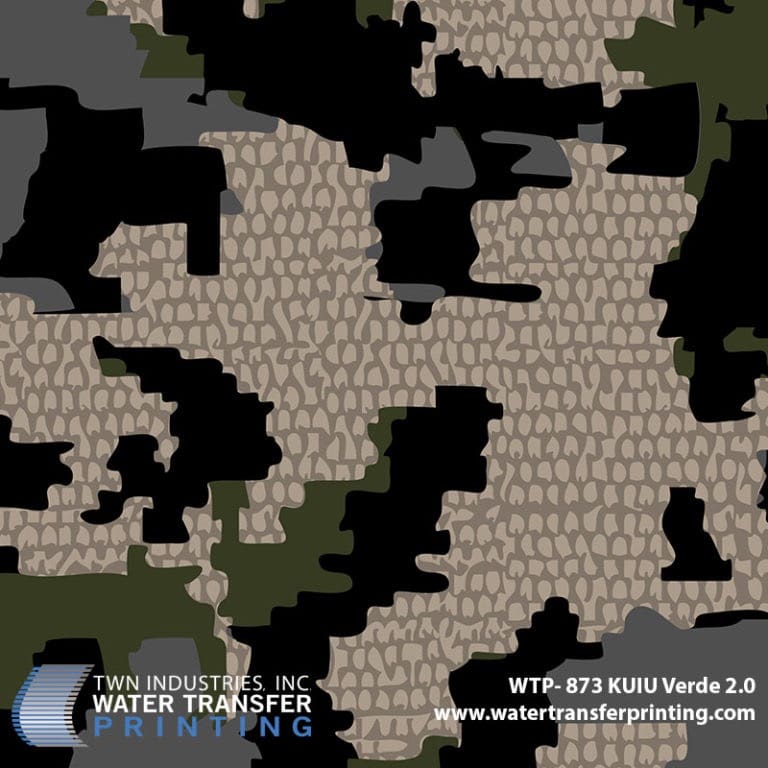 Kuiu Verde 2.0 Hydrographic FilmPrinceton, FL – December 13, 2016 – TWN Industries Inc., the leading Water Transfer Printing supplier is proud to announce its partnership with KUIU Ultralight Hunting to bring you two newly revamped camouflage hydrographic films. KUIU Vias 2.0 and KUIU Verde 2.0 both received improvements to their design, allowing you to blend in by utilizing their proprietary camouflage technology. KUIU Vias received a facelift in 2014. The new design features darker tan background colors, a second shade of gray, and elongating portions of black, which enhance contrast and break up your silhouette at greater distances. KUIU's objective in the Vias 2.0 update was to make the pattern more effective in a broader range of environments.
KUIU VERDE 2.0 Water Transfer Printing Film
Likewise, Verde 2.0 is an updated version of KUIU's original version released in 2012. Verde 2.0 features more open space and contrast, making it extremely effective at varied distances. This gives it the upper hand compared to tighter, micro-patterns which can appear monochromatic. Enhancements to the pattern include an added black coloring, a lighter gray hue, and an increase in the overall size of each color block. Additionally, sharp edges found throughout the pattern were rounded off in order to reduce an overly "digital" appearance. This provides Verde 2.0 with a more natural appeal in the field. As a result of these improvements, Vias 2.0 and Verde 2.0 will replace their older counterparts in all TWN hydrographic films.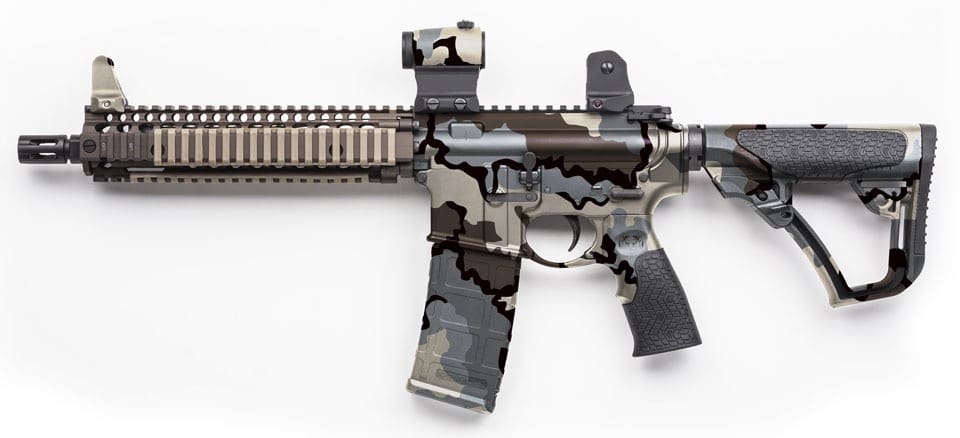 KUIU VIAS 2.0 Water Transfer Printing Film
Previously, Vias and Verde Water Transfer Printing film patterns were scaled to 45% of the original size engineered for fabric. This reduction in size allowed for an appropriate scale on firearms, bows and related accessories. Now, Vias 2.0 and Verde 2.0 hydrographic film patterns are scaled to 75% of the original fabric size. This will enable Water Transfer Printing projects on a wider range of hard goods to match more closely with official KUIU® apparel and thus, enhance overall concealment.