For the next few days we are going to share some information from the OR Summer Market 2009. To kick it off we wanted to share this picture of ADS rep Bill Gassett hamming it up at Deuter's booth.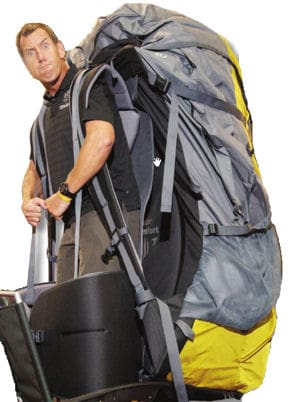 Most of the usual suspects were on hand as well.
S.O. Tech has a booth that seems a little off the beaten path but it didn't deter them releasing their new Adventure Pack System based on their successful Mission Pack System. In addition to the current tactical panels they have developed several specifically for the civilian market and these can easily be transitioned back over for tactical use by those who require more discreet capabilities. Additionally, S.O. Tech debuted their new K9 patch to add to their ever growing family of tactical symbology.
Eagle's booth was very streamlined and focused primarily on the Waterpoint line was well as several of the new garments they have in production. Word is that the Waterpoint line will be expanding in the future.
Arc'teryx has some great new clothing coming soon on both the LEAF and commercial side. Look for a full report soon. Shown are the Freelance Jacket and Raider Pant. Unfortunately, these two items from the commercial line won't be available until Spring 2010.
Tags: ADS, Arc'teryx, Deuter, Eagle Industries, S.O. Tech