Martinsville, IN – April 29, 2016 – MTEK, manufacturer of high-performance ballistic products, announces they are now taking pre-orders for the latest development in head protection- The FLUX Ballistic. This helmet is a lightweight modular design that has an array of technological advancements in the ballistic helmet space.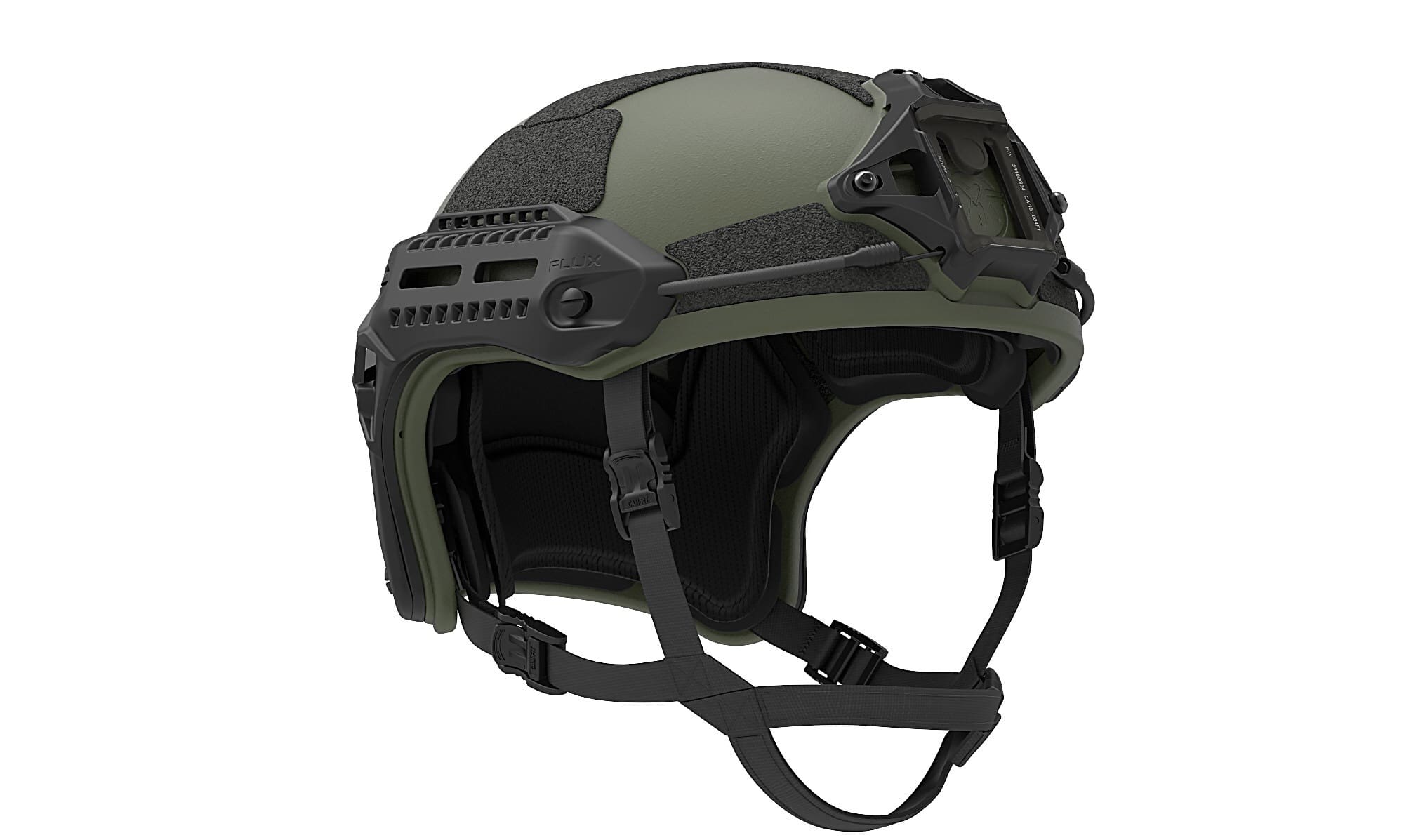 The FLUX features an undercut shell geometry, which allows it to closely follow the natural contour of the head when compared to conventional "flared-out" helmet geometries. The lightweight shell is molded in-house using high-performance ballistic material, which is formed without any darts or slits in the material. It's also 100% boltless, or bolt-through-less, meaning no drilled holes or perforations anywhere throughout the shell, and no hardened-steel bolts or fasteners. The finished shell weight of 1.1 lbs (2.2lbs total system weight) in conjunction with unique geometry, allows the FLUX Ballistic to be as light and comfortable as a bump helmet, while retaining the ballistic performance of much heavier systems.
"We could have released a conventional helmet 2 years ago, but decided to keep pushing the boundaries to avoid any compromise of the intended design. This required a significant amount of time and energy in order to further develop the processing techniques in order to take this to the next level", explained MTEK Vice President of Business Development, Ryan Bowser.

The suspension and retention systems were made to support the ballistic shell in the best way possible. The Fluxliner is designed for the additional coverage area of the helmet's unique shape and to make it as comfortable as possible for wear during prolonged use. Complementing the "Bolt-through-less" FLUX design, the retention system utilizes Inverse Clip, which allows the user to expeditiously change the retention system for removal, replacement or upgrade. The FLUX helmet uses the MAGPUL MLOK negative mounting space for accessory attachment points. This allows for some unique options for interchanging accessories (such as cameras and lights) between the helmet and rifle. Additionally, a spacer can be removed from underneath the accessory rail and replaced with upgraded ballistic covers. This furthers the helmet's modular concept while ensuring maximum "rail-estate".

"In the beginning, we asked ourselves how do we improve on some of the fantastic helmets that are already available? The answer we found was certainly not an easy one, but, in the end, has resulted in a lightweight, comfortable helmet that is configurable to many different situations and individuals."
All FLUX Ballistic Helmets come standard with FLUX MLOK rails, Battle Bungees, exterior Velcro Loop, and the industry-leading Wilcox Industries L4 Series Shroud.
*Ballistic Side Covers, Mandible, and ISOFIT coming Q4 2016.
See the MTEK FLUX Ballistic here.
Tags: MTek