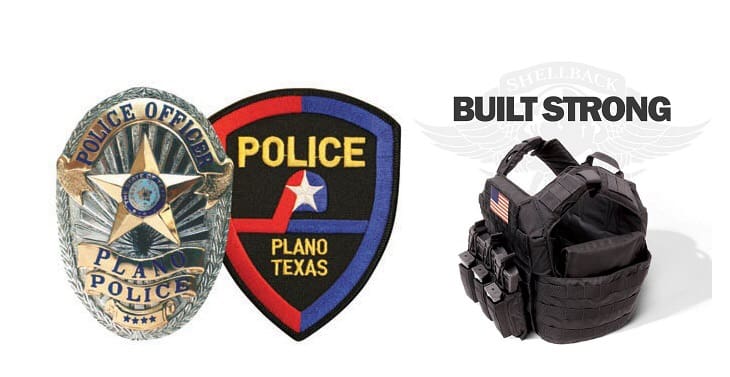 Shellback Tactical is proud to announce that the Original Banshee Plate Carrier in Black has been selected by the Plano Police Department (Plano, TX). The Plano Police Department is the 4th largest agency in Texas and located just 30 mins North of Dallas. With the recent unfathomable, cowardly, tragic incident that occurred in Dallas against Law Enforcement. This Life-saving equipment is important more than ever.
For the evaluation. The Plano Police Department put a team together to evaluate plate carriers for the agency. They evaluated approx. 10 potential carriers. After their in depth evaluation they selected the Banshee Plate Carrier for several reasons. Ease of use, the range of officers the carrier would fit, price point, quality and long term durability. They will be issuing and fielding 350 Banshee Plate Carriers to start into their patrol division. The Banshee has also been adopted as their official carrier and will be issued to all new hire officers as well.
Shellback Tactical is happy to have been evaluated and selected. In the current environment of Law Enforcement being targeted, it is great to see another Police agency preparing and investing in their personnel.
If your agency is interested in more details on the evaluation or outfitting its personnel with Plate Carriers, Hard Armor, Helmets, and complete active shooter kits. Please contact [email protected] for info, quotes (RFQS). We are here to help. Shellback Tactical's roots are in Law Enforcement with the owner being a retired LEO himself. Protecting as many Law Enforcement as possible has become our highest priority. Soon, Shellback Tactical is sending personnel to the Plano-Dallas Metro area to meet with several other agencies regarding their needs for active shooter protective gear. If you are an agency that would like more information on our visit, you can also email [email protected]
Shellback Tactical founded in 2003 by a Police Officer. We have over 18 years of Law Enforcement experience and we have been designing gear and other life-saving equipment for over 12 years. Trust in us and our experience to get your agency and officers protected.
Tags: Shellback Tactical