The US Army is concerned about overmatch of its Infantry forces and the proliferation of inexpensive, rifle caliber resistant body armor. So much so, that Chief of Staff of the Army, GEN Mark Milley has testified before the Senate Armed Services Committee on the need for a new 7.62 rifle and ammunition.
Word is that last Friday morning, the Army's G8, LTG John M Murray was on the range, firing the three GOTS candidates which might fulfill the requirement: the KAC M110, H&K M110A1 (G28) and FNH Mk17 (SCAR Heavy). Later in the day, on 3 August, the US Army released a solicitation for the purchase of the 7.62mm NATO Interim Combat Service Rifle we began writing about back in April.
Initially, it had sounded like the Army would just buy one of the three weapons mentioned above. But with an acquisition plan which includes downslecting to up to eight candidates and then awarding a final winner, it seems that the Army wants to see what industry has to offer.
The Notice states that the Army plans to purchase up to 50,000 examples of the rifle which must be in 7.62mm NATO, capable of semi and full-auto. It must also be designed for use with a suppressor. Interestingly, the ICSR's attributes aren't quite as stringent as they were two months ago, when the requirement was just an RFI to industry.
It must also be capable of reliably firing the new M80A1 Enhanced Performance Round (EPR) which is not yet in general circulation. Please recall that prior to the cancelled Individual Carbine competition, industry had a rough time sourcing 5.56mm M855A1 ammunition to conduct development.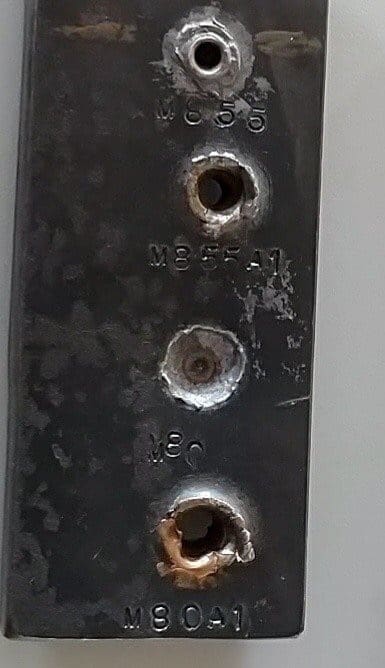 There has been much handwringing in industry over whether the Army would purchase one of the three government issue 7.62mm rifles for the Interim Combat Service Rifle directed requirement, or issue an open solicitation. The Army is asking for something that isn't a commodity in their ICSR requirement: a full-auto 7.62mm rifle. They just don't exist as production weapons, save the FNH SCAR Heavy and H&K 417, due to controllability issues. Out of the three GOTS rifles, only the Mk17 is full auto capable, making the need to turn to industry, inevitable.
Offerors may submit more than one design. The Army will evaluate the candidate weapons based on the following criteria:
1. Dispersion (300m – function, 600m – simulation)
2. Compatible w/ FWS-I and laser
3. Weapon length (folder or collapsed)/ Weight (empty/bare) / Velocity (300m and 600m calculated)
4. Semi-Automatic and Fully Automatic function testing (bursts and full auto)
5. Noise (at shooter's ear) / Flash suppression
6. Ambidextrous Controls (in darkness or adverse conditions) / Rail interface
7. 20-30 round magazine to support a 210 round combat load
8. Folding sights
NOTE 1: Attributes 2, 6, 7, and 8 above will be evaluated on a zero/full point basis. An Offeror whose bid sample receives zero (0) points for one (1) or more of these attributes will not be automatically eliminated from the competition; however, receiving a zero (0) score for one (1) or more of these attributes will adversely impact an Offeror's overall score.
NOTE 2: The proposed candidate will be eliminated from the competition with no further evaluation if at any time the weapon becomes inoperable during testing.
They chose to issue a Commercial Opportunity Notice (CON) for Other Transaction Agreements (OTA) for this procurement action. The idea is to fast track the acquisition, with three phases.
It's obvious the Army is in a hurry here. By September 6, 2017, they want offerors to submit:
a) White Paper Proposal
b) Safety Assessment Report
c) One (1) bid sample weapon system to include manual, cleaning kit, special tools (if required), enough magazines to support basic combat load of 210 rounds, and one (1) suppressor.
If a candidate weapon is one of up to eight selected for the follow-on OTA, the offeror will have to submit the following within 30 calendar days after notification:
a) Seven (7) weapon systems per configuration (if awarded OTA) with enough magazines to support the basic load of 210 rounds per weapons
b) Seven (7) cleaning kits
c) One (1) supressor
d) One (1) specialized tool kit (provide if required), and
e) Seven (7) manuals.
Eventually, they plan to issue an Indefinite Delivery, Indefinite Quantity for up to 50,000 examples of the ICSR. However, the Army reserves the right to adjust that amount, including purchasing more.
Notice that offerors are required to provide magazines sufficient for a 210 round basic load. There aren't a lot of 30 round 7.62mm magazines on the market, so 20 rounders will suffice. Magpul currently offers a 25 round magazine in the SR-25 pattern that will likely be tapped.  Basic math dictates that any combination of 20 and 25 round magazines will yield 220 or 225 rounds of rather weighty 7.62 ammunition.  Interestingly, the Army wants to maintain its 210 round basic load of ammunition even though the 7.62mm M80A1 round will more than double its weight.
They must also submit a suppressor. However, we expect that there will be a suppressor competition down the road as well as a telescopic optic competition for the ICSR. There's not much point in open sights for a weapon expected to engage targets out last 600m.
Finally, there's the issue of the weapon's name. It's referred to as an "interim" rifle leading us to believe that the Army still wants to transition at some point, to an intermediate caliber, a concept we discussed at length during our initial reporting back in April. Don't forget, USOCOM is currently evaluating cartridges in the 6.5mm family. Our money remains on the .260 Remington.
For full details, visit www.fbo.gov.