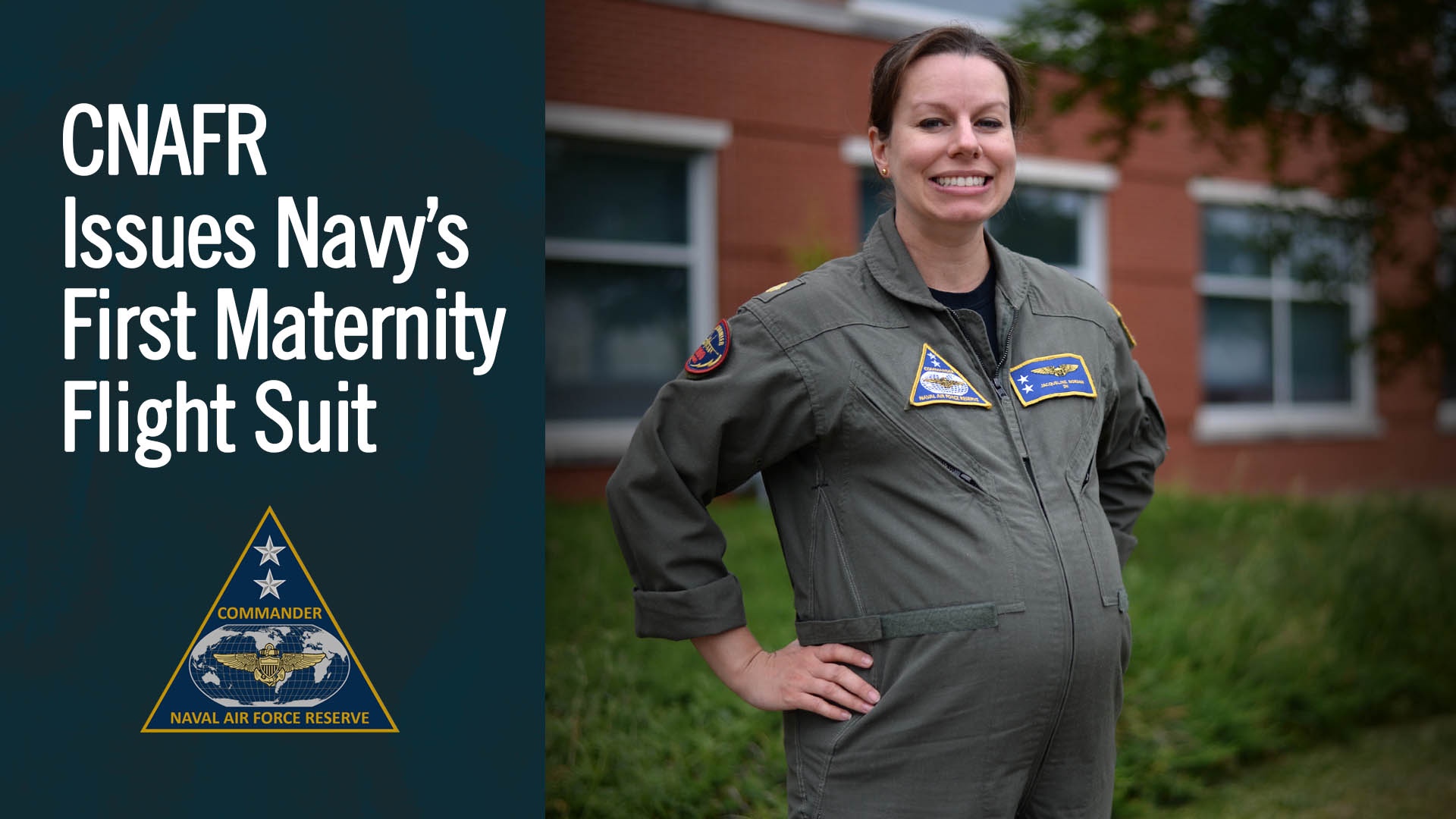 NORFOLK — On Mother's Day, many Americans pause to celebrate and reflect on the mothers in their own lives. In the Navy, it's also important to reflect on the sacrifices made and challenges faced by mothers who serve. At Commander, Naval Air Force Reserve (CNAFR), looking for opportunities to better support Sailors and their families is always a priority.
CNAFR was recently selected to participate in a preliminary rollout of a new maternity flight suit in a step to better support expecting mothers.
Lt. Cmdr. Jacqueline Nordan, CNAFR's mobilization program manager received the first Navy maternity flight suit earlier this year
"The addition of this uniform item makes an immediate impact on women in the Navy," said Nordan. "It shows that leadership is listening and is supportive in response to the issues that female aviators are raising."
Nordan explained that the adjustable side panels on the new flight suits provide not only more comfort, but also improve safety and allow female aircrew to maintain their professional appearance throughout their pregnancy.
"Prior to the maternity flight suit, pregnant aircrew have generally collected larger sized flight suits and gone up through additional sizes throughout their pregnancy, potentially needing three to five additional flight suits," said Nordan. "Wearing a larger-sized flight suit results in longer hems and sleeves, potentially presenting a safety hazard in the aircrew cleared to fly during pregnancy. Additionally, wearing clothing that is clearly too large for you presents a less professional appearance for daily business. Pregnant aircrew who are not flying are still conducting squadron business. They're still instructing classes, working in simulators, giving briefings, and representing their organizations. It makes a big difference to be able to continue to represent ourselves professionally in a well-fitting uniform throughout a pregnancy."
Nordan understands the impact this change will have on her fellow female aircrew's experience while growing their families and she says she is grateful to be a part of the project.
"I'm thrilled to participate in moving this initiative forward," said Nordan. "The CNAFR supply and maintenance teams have put some hard work into determining how we could incorporate these uniforms into our current system, and they deserve all the credit. I get the easy job – I just put the uniform on in the morning and loosen the waist straps as the weeks go by."
In making seemingly small changes like these to address uniform and safety concerns of female aircrew, the Navy is also communicating a very important message to women who serve.
"These additions are important because they show that leadership supports the idea that having a career and having a family can be compatible," said Nordan. "Being a dedicated Navy professional while building a family can be done. Moves like making a daily uniform item more wearable during pregnancy remove some of the small barriers that can build up and discourage women from going down that path."
The Navy's maternity flight suit program is still in development. Policy and instructions for obtaining the flight suit will be released as information becomes available.
By Mass Communication Specialist 1st Class Chelsea Milburn