BIRMINGHAM, Ala. —
U.S. Air Force Pararescuemen executed the Fall 2022 Special Operations Center for Medical Integration and Development culminating field training exercise in Birmingham, Alabama, Nov. 17, 2022.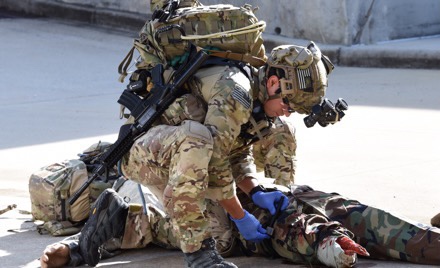 Training provided the pararescuemen various controlled scenarios to enhance medical readiness, whether in day-to-day operations or in austere, resource-limited locations.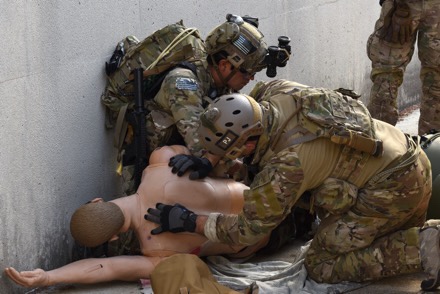 The culminating FTX was the capstone to a two-week-long certification course where students applied skills learned in civilian hospital care to tactical scenarios.
SOCMID is embedded with the University of Alabama at Birmingham Hospital. Their vision is to establish the premier trauma skills, sustainment and recertification platform for pararescuemen and Special Operations Independent Duty Medical Technicians.
The partnership with UAB Hospital is beneficial to students as it is a level one trauma center, allowing them to conduct clinical rotations in operating and emergency rooms.
"The civilian-military partnerships are important to our sustainment program," said U.S. Air Force Col. Clayton Rabens, 24th Special Operations Wing command surgeon. "Some of these skills are perishable, so having partnerships like we do with UAB allows us to replicate scenarios and solve problems hands-on, then apply them to tactical scenarios for students to practice."
Some of the other training was completed with virtual reality headsets. Specific VR training helps students refine cognitive skills in approaching medical problem sets.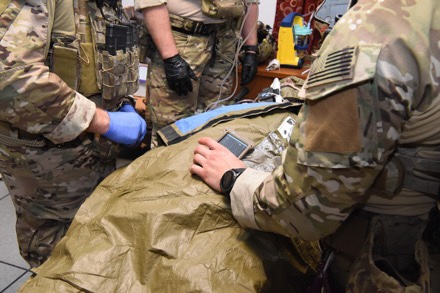 Additionally, prolonged casualty care scenarios allowed pararescue teams to work through casualty care with new skillsets learned while attending SOCMID real-time with wounded mannequins.
"We want to ensure they're prepared to meet real-world missions," added Rabens. "The high stress environment they encounter during the FTX ensures we are able to meet that goal."
By 1st Lt Victor Reyes, 24 SOW Public Affairs