By Headquarters Air Force A3 Air Force Special Warfare Directorate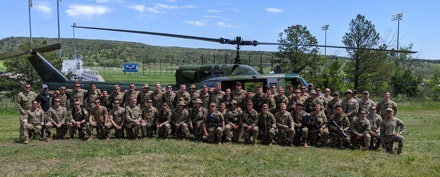 Air Force Special Warfare (AFSPECWAR) continues to refine its academic year and summer programs to help AFROTC and USAFA cadets prepare to be Special Tactics Officers (STOs), Tactical Air Control Party Officers (TACPOs), and Combat Rescue Officers (CROs).
Now in year three, USAFA's formalized "Special Warfare Club" (SWC) academic year materials benefit two areas — first, they are available for AFROTC Detachments to download and develop or refine their own SWC; second, they are used in the 2, two-week Special Warfare Orientation Courses (SWOC) official summer programs.
The information and exposure will help cadets prepare physically and mentally prior to attending a selection for Special Warfare, called Phase II. The 19Z Special Warfare Officers (STO/TACPO/CRO) are the only officer specialties which require successful selection at a pre-commissioning screener to begin their respective training pipelines, according to Col. John M. Graver, individual mobilization augmentee to the director of AF/A3S Air Force Special Warfare.
"With no previous experience, many cadets do poorly, negatively impacting unit readiness. Now, we provide them a safe introduction to the events and evaluation criteria," said Graver. "Without a formalized method to prepare, cadets have proven to develop unsafe habits."
Currently, filling commissioning slots for the 19Z AFSC is a challenge shared by both AFROTC and USAFA.
"We want cadets to be successful. Our program includes over 30 academic and physical lesson plans, risk management, and templates to organize their SWCs, along with opportunities to learn from contracted coaches, thereby mitigating risk for Detachment commanders," added Graver.
The last SWOC was held in June and July 2023 at the Air Force Academy in Colorado Springs, Colo. where 80 AFROTC and USAFA cadets participated; with more than 20 cadets-in-charge and over 20 uniformed and civilian staff from USAFA, AFROTC, MAJCOMs, and Air Force and Army flying units assisting with the training.
SWOC involves over 40 events to prepare cadets for the "Phase II" pre-commissioning screener. These included land and water fitness sessions, troop leading procedures, small unit tactics, decision making, as well as planning and executing global access, precision strike, and personnel recovery missions.
Additionally, AFROTC cadets can participate in AFRS-led Special Warfare AFROTC Weekend (SWAW) events, which are conducted 8-10 times throughout the academic year at various detachments hosting these weekend events around the country.
"We want to provide interested cadets as many opportunities as possible to prepare," said Maj. Eric Atchison, Air Force Recruiting Service. "Between these SWAW events, the 2-week SWOC opportunities in the summer, and an increased number of Special Warfare Clubs at Detachments, we can prepare as many cadets as possible to succeed as leaders in the Special Warfare community. It's an extremely challenging and rewarding career like no other, and we are looking for the right young men and women who have what it takes to succeed, no matter the odds."
AFROTC detachments with interest in developing or refining their cadet Special Warfare Club should expect to receive another message this fall on these opportunities, and may reach out to Maj. Atchison for additional information at [email protected]