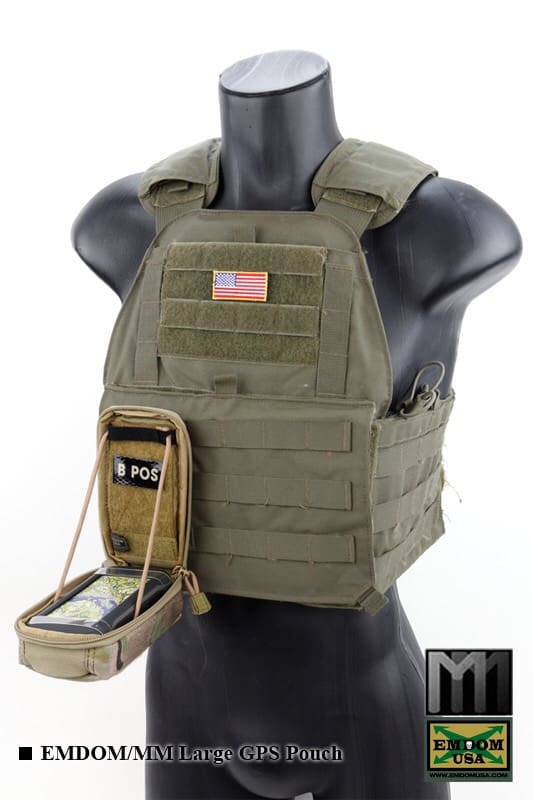 Emdom USA's Large GPS Pouch is a collaboration with Military Morons. It is designed to carry the Garmin Montana series of GPS units, but will naturally for a wide variety of other gear such as cameras, mobile devices, radios, etc.
Features:
-Dimensions: 6″ tall x 3.5″ wide x 2″ deep
-Weight: 4 oz.
-2 x short and 2 x long MALICE clip included.
-MOLLE/PALS compatible.
-Mountable to shoulder straps on a pack, belt, or webbing up to 3" wide.
-Can be mounted vertically or horizontally.
-Designed for the Garmin Montana series.
-Will accommodate other GPS units of similar or smaller size.
-Can be used similarly sized devices: smart phones, digital music players, digital cameras, two-way radios, etc.
-GPS unit can be viewed and operated without removing it from the pouch.
-HDPE plastic sheet stiffener in front and rear panel.
-Front panel features thin layer of EVA foam padding.
-Dual zipper clamshell opening.
-Opening angle is adjustable via internal length of 550 paracord.
-Can be left open for hands free GPS monitoring.
-GPS unit retained internally by two One Wrap Velcro straps secured to a hook Velcro backer.
-Velcro backer and straps secure GPS unit to loop Velcro lining of front panel.
-Velcro backed retention allows GPS unit to be removed and replaced quick and easily.
-Antenna opening features overlapping elastic allowing GPS unit antenna to protrude.
-Antenna opening also allows pass through of headphones or other wires.
-Drainage grommet for water, sand, etc.
-Backed by Emdom USA lifetime warranty.
Offered in a wide variety of colors amd patterns. To order, visit www.emdomusa.com