Posts Tagged 'Kel-Tec'
Wednesday, January 18th, 2017
It's always a joy to visit the Kel-Tec booth, as they consistently have new products to check out every year. Granted, it will be a while before you'll see them on the market, but it what it is. For this year, Kel-Tec has two new models of their RDB, and one new model of the KSG.
KSG-25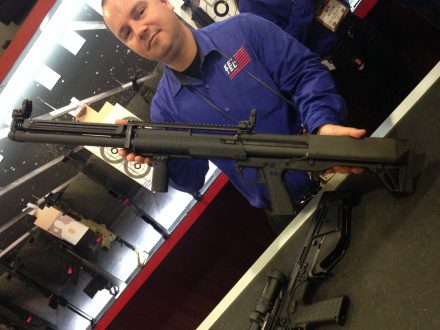 Forgive the image orientation, but it was necessary because the KSG–25 is long, 38″ long to be exact. The KSG-25 sports a 30.5″ barrel, with a standard capacity of 24+1 2.75″ shells, hence the name. It weighs a hefty 9.25 lbs. unloaded, and roughly 11.5 lbs. when loaded. This particular model will come complete with Magpul MBUS front and rear sights, and a Magpul RVG vertical grip, along with a heat shield to cover the extended barrel. Kel-Tec states the KSG–25 will see a limited release third quarter of this year, provided demand is high enough.
RDB Tactical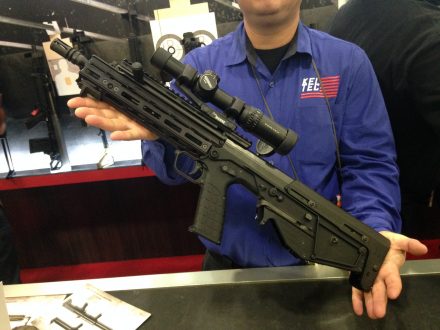 The RDB Tactical is a variation of the RDB, featuring a two position collapsible stock which provides shooters with 1.5″ of additional length, as well as an M-LOK forend designed specifically for the rifle. The barrel length is 16″, and the RDB Tactical can accept any standard AR-15 compatible magazines. This rifle was so new, Kel-Tec wasn't able to produce marketing materials for it to bring to the show.
RDB Survival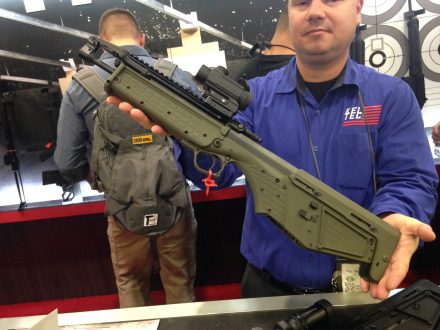 The RDB Survival is a minimalist profile variant of the RDB designed for field carry. Like the Tactical, it features a 16″ barrel, although this one is pencil profile to keep the weight down. The Survival model has an overall length of 26.1″, with a weight of 5 lbs., comes with integrated iron sites, and can accept any standard AR magazines. The Survival also features the same two positions stock as the tactical model, providing an additional 1.5″ of stock length for the shooter, which is also what lets the Survival skirt the minimal legal length.