US Elite Gear is now offering unbeatable prices on two popular items from Patagonia and Wild Things Tactical!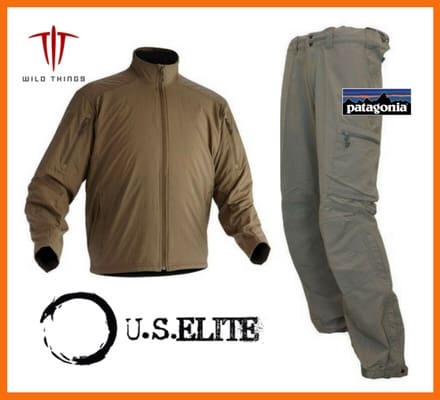 First up is the Low Loft Jacket S0 1.0 from Wild Things Tactical. This is a versatile, mid-layer jacket that is lightweight and highly compressible for packing. PrimaLoft®  insulation keeps you warm even while wet and a water-resistant shell helps you stay dry in the first place. The jacket is available in Coyote and MultiCam®.
We're also offering a classic military issued item from Patagonia, the Gen II Protective Combat Uniform (PCU) Level 5 pants. Originally developed for US Special Operation Command (SOCOM) following early experiences in Afghanistan, the PCU is the current system of cold weather garments. The Level 5 pants from Patagonia are a softshell trouser designed to replace your combat uniform when the temperature dips low. Side, waist and ankle zips give easy access to other layers and the waistband can accept belts and suspenders. The Gen II PCU Level 5 pants are available in the issued color of Alpha Green.
Check these classic items and more at US Elite. Check back often because you never know what might pop up!