PEO Soldier has finally dispensed with the awkward "Flame Resistant Improved Army Combat Uniform Trouser" and finally called it what it is, an Army Combat Pant (ACP). What's even better is that they are taking the next step from the pre-solicitation released in late June and have a released a full solicitation for a Commercial Army Combat Pant. This methodology leaves the details open to the vendor and gives general guidelines on the construction of the pants to the vendor. Proposals are due by 25 August 2011 at 3:00 PM EST so if you have a product to offer you'd better get your submission together.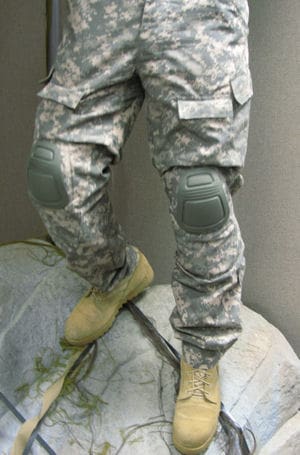 This is a photo of a prototype.
It is going to make a great companion for the Army Combat Shirt and this is a big win for the Soldier.
Make the jump to read all of the details

ITEM DESCRIPTION/MISSION REQUIREMENTS:
Throughout the Army, Warfighters require clothing that is durable, functional and provides the protection they require to accomplish their missions. From conducting convoy operations to urban combat or dismounted operations in harsh mountainous terrain, the difference between mission success and debilitating injury or death is often balanced on the quality and configuration of the clothing and equipment the Soldier is using. The environmental conditions under which the Army Combat Pant (ACP) will be used will range from tropic to arctic and from arid desert to open ocean, including all weather conditions in these environments. The ACP shall be flame resistant, durable and comfortable, while providing improved knee protection capabilities over the current Flame Resistant Army Combat Uniform (FR ACU) Trouser. The ACP shall have demonstrable improvements in the durability of the Seat, Crotch and Knees over the current FR ACU Trouser through either improved materials or design.
Baseline Salient Characteristics (Minimum thresholds):
a. The Army Combat Pant shall be constructed of Flame Resistant materials which provide protection equal to or greater than Flame Resistant Army Combat Uniform fabric and meets or exceeds fabric flammability test requirements specified in GL/PD 07-12 Revision 4, Table III. The finished garment shall meet or exceed performance requirements for the current FR ACU ensemble when tested in combination with the current FR ACU coat as specified in ASTM F1930 and GL/PD 07-12, Revision 4. Reference Attachment 0001 for a copy of GL/PD 07-12, Rev 4.
b. Provide the same general appearance as the current FR ACU trouser.
c. Capable of being printed in multiple camouflage patterns to include but not limited to the Universal Camouflage Pattern (UCP), and Operation Enduring Freedom Camouflage Patterns (OCP), while meeting all required shade standards and Near Infrared Signature requirements.
d. Provide belt loops capable of supporting, and compatible with all military equipment.
e. Belt loops shall be of a quantity sufficient to cause the belt to support the downward stresses of the pant without permitting bunching or sagging and without hindering the attachment of items of equipment and holsters. Belt loops shall be of a sufficient width to perform the above without breaking, and large enough to allow the passage of a riggers belt through the loops single handedly.
f. Shall have a means of tightening the waist band to customize fit when the belt is not worn that does not create a pressure point when in the prone position.
g. Shall have a single button waist and zippered fly closures.
h. Has a ruggedized seat with greater durability than the current FR ACU Trouser.
i. Shall have a 10 pocket configuration consisting of 2 hip, 2 back, 2 cargo, 2 calf, and 2 knife w/ closure.
j. Rear and Cargo pockets shall be secured with buttons closures.
k. Fly and Crotch construction shall be durable. Crotch Construction shall exceed current FR ACU and ACU Trouser burst and tear strengths both wet and dry, and shall allow for increased movement in this area. Crotch design may include a gusset with FR stretch fabric.
l. Requires integrated removable hard-shell knee pad with flap capable of covering knee pad insertion point to prevent soil and debris from entering the pant when knee pad is not in use. Knee pad pocket shall have an opening suitable for the rapid drainage of water.
m. Knee pads shall be capable of vertical and horizontal adjustment for customizable fit.
n. Have a cinchable pant leg cuff.
o. Total weight with knee pads installed will be equal to or less than 2lbs 3 oz. for size Medium Regular or equivalent.
p. Size range must be sufficient to fit the 95th percentile of all soldiers.
Desired Salient Characteristics (Exceeding Objectives):
a. The construction and materials should attain the following characteristics: low noise detection signature; color and shade integrity; heat and moisture management. The material make up of the pant should provide demonstrable increases in durability to the Seat, Crotch and Knees either through increased material durability and/or design improvements.
b. Permethrin factory treated FR ACP shall meet the stated Permethrin requirements: Dosage – Permethrin level 0.52 percent weight on weight and not to exceed 0.1375 mg/cm2. Efficacy – Percent Bite Protection greater than 70% (threshold) and or equal to 90% (objective) percent initially and after 0, 20, and 50 launderings.
c. Additional knife or pen pockets with secure closures.
d. Built-in repair kit that has the capability to repair snags, rips or tears in field environment without the need for additional specialized equipment and without affecting the safety of the user.
e. Fly and Crotch construction should incorporate methods which enhance ease of release for donning and doffing in emergency situations, and use current industry practices to ensure reproducibility for other items. Crotch Construction must utilize innovative design that reduces crotch failure due to stress and enhances user mobility, comfort and durability
f. Integrated knee pads must provide shock attenuation based on test pendulum impact rig (based on the EN1621 motorcycle protection test) of 25kN or below.
g. Total weight with knee pads installed will be less than 2 lbs 2.5 oz. for size Medium Regular or equivalent.
h. Size range should be sufficient to fit 95th percentile of all soldier without creating an undue logistical burden.
Tags: Army Combat Pant