MOUNTAIN HOME AIR FORCE BASE, Idaho (AFNS) —
From initial training to undergoing missions, aircrew have a dangerous and rigorous job. They must know what to do while flying and how to respond in some of the scenarios they might encounter.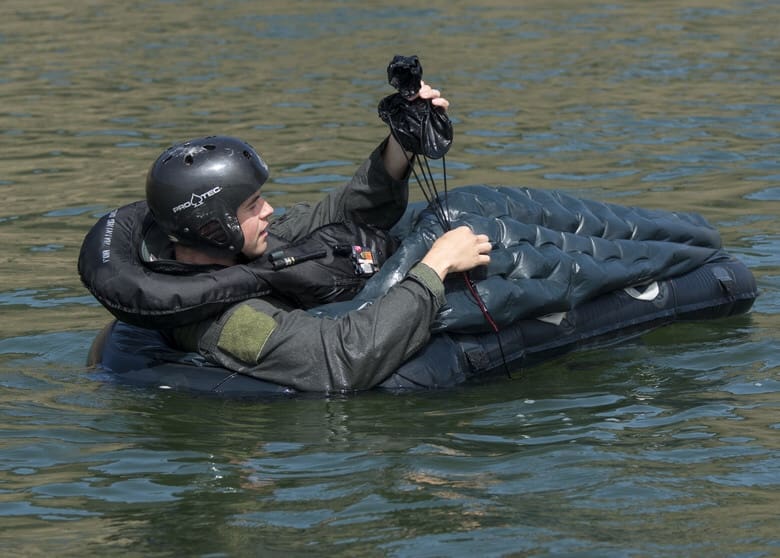 One of these scenarios is the risk of having to bail out over the ocean.
"From the moment they eject up until they've been hoisted into a recovery vehicle, their lives are at risk in the ocean," said Staff Sgt. David Chorpenning, 366th Fighter Wing survival, evasion, resistance and escape specialist.
To develop these skills necessary to stay alive, aircrew from the 389th and 391st Fighter Squadrons attended water survival training taught by SERE specialists Chorpenning and Tech. Sgt. Timothy Emkey.
During this course, aircrew attend an hour-long classroom session where they are instructed on what to do, what gear to use and how to survive in case they may have to eject over the ocean. The course covers what to do from the initial landing in the water until they're extracted by either another ship or an aircraft.
"F-15E Strike Eagle crew members don't have much equipment once they eject," Chorpenning said. "They have no food and very little water. The ability to utilize the gear they do have to get rescued quickly is a crucial skill."
After the classroom session, the aircrew are then taken out to C.J. Strike Reservoir where they disconnect their safety harness from the parachute while being dragged by a boat. This simulates the wind drag they might experience when bailing out over water.
During the last part of the course, aircrew must inflate their life raft correctly and demonstrate how to prepare for extraction.
"The worst dangers they face are the lack of resources, both from the environment and in their kit. The only thing the ocean provides is the potential to catch food," Chorpenning said. "There's no shelter, water or the ability to build a fire. Without the proper equipment, a human will quickly die on the open seas."
From classroom sessions to field training, this course ensures aircrew have the ability and skills to survive life at sea.
"Knowledge of their equipment and water survival training significantly increases a crew member's chance of survival," Chorpenning said. "By familiarizing them with their gear and how to make the most of their environment, SERE improves their survivability and empowers them to return with honor."
By Airman Antwain Hanks, 366th Fighter Wing Public Affairs