FORT BLISS, Texas (AFNS) —
U.S. Air Force Defenders tested and validated the career field's operations for base defense in the New Mexico desert Oct. 23-27 during the inaugural Defender Flag field exercise.
More than 180 Defenders from every major command participated in the event, thanks to help from support agencies, Headquarters Air Force, the Air Force Installation and Mission Support Center and the Air Force Security Forces Center.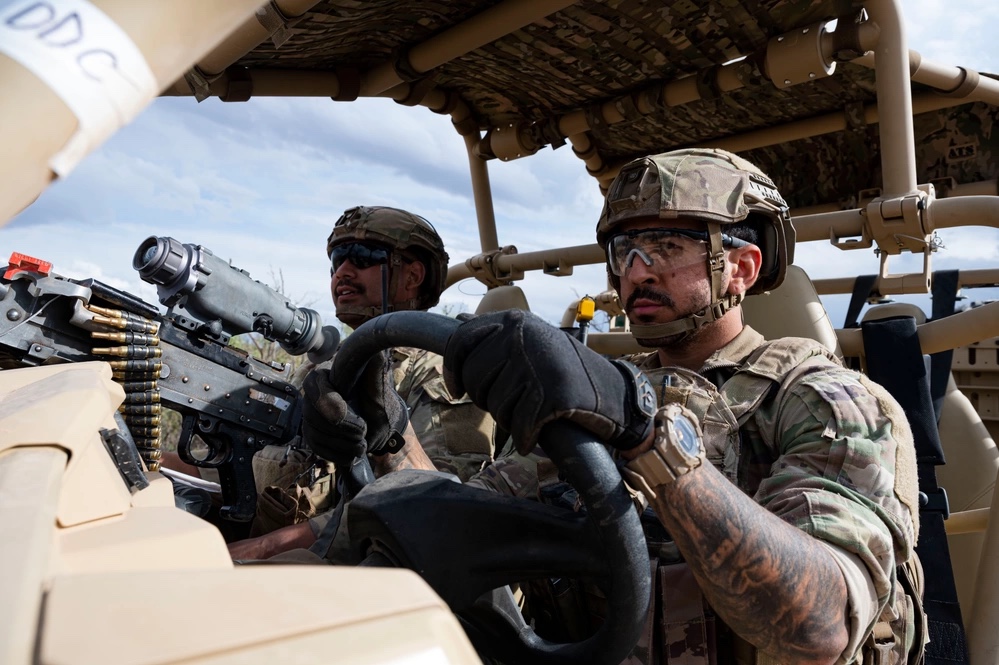 The live-fire exercise provided realistic assessment and validation of base defense tactics, techniques and procedures during intense, realistic scenarios, said Lt. Col. Christopher Jackson, chief of the AFSFC's Security Forces Training Support Division and event lead for both Defender Flag and Defender Challenge. It also tested and evaluated new concepts, TTPs and equipment, identifying potential gaps and needed changes to career field training curriculum.
The field exercise was conducted simultaneously with Defender Challenge, the security forces competition to determine the best-of-the-best in combat tactics, weapons proficiency and physical endurance. Both events, hosted by the Air Force Security Forces career field, were planned and executed by the AFSFC.
The team members who helped put together Defender Flag had a tremendous amount of pressure on their shoulders, Jackson said.
"The countless members of the team who helped put together Defender Flag knew how important the event would be to help us get ready for the next fight," the lieutenant colonel said. "They knew the mission planning was absolutely critical and even more important was collecting data we can use for TTPs to inform training and equipment we'll need for the future fight."
"The fight of yesterday looks different than what is needed for the fight of tomorrow," said Brig. Gen. Thomas Sherman, Air Force director of security forces. "Strategic competition is our primary national security challenge and events like Defender Flag and Defender Challenge are paramount to our career field's success."
The security forces career field is in an evolutionary period, he added, so holding Defender Flag at this time was important.
"This exercise is helping the career field assess Defender skillsets in challenging environments and testing innovative tactics to solve difficult problems," Sherman said, with lessons applied across the force.
"We realize that the threats we're seeing in strategic competition and the way the world is around us calls for a change. It calls for us to relook at ourselves and who we are, how we look at base defense and how we see ourselves as being the greatest contribution to the U.S. Air Force. What Defenders did during both events displayed our potential," Sherman said. "We're setting the course for the future … identifying what we are incredible at, the areas where we have gaps and how we need to sharpen our sword to be prepared for what lies ahead."
Much has changed with security forces operations and training since 2015, said Chief Master Sgt. Donnie Gallagher, security forces career field manager, and "Defender Flag is arguably the most important thing going on right now in Defender Nation.
"We're getting after things from a different mindset, trying to really see where we're at," the chief said. "Are we as good as we think we are, or do we have a lot of work to do? What we did last week will lay the foundation for things to come on how we evolve as a career field to get after the base defense mission, which has become our primary purpose."
For the chief, Defender Flag was an eye-opening experience.
"It really pointed out some things we need to get after, maybe in our training environment at home station versus what we do at some of our readiness training venues," he said. "It validated the importance of physical fitness. The sheer weight of our weapons, armor and heavy equipment points to the importance of being at the peak point of fitness. Therefore, we are looking at different physical training program options to reinforce this fact."
For tactics and other aspects of security forces operations, "we need to get out the honing stone and sharpen the sword … but we're looking pretty good," Gallagher said.
Both Defender Flag and Defender Challenge are helping to make sure Defenders are trained and ready for the future fight.
They validated everything the Air Force did after the former Defender Next-32 Initiative, which directed a more challenging and realistic training curriculum for Defenders, the chief explained.
"The strategy General Sherman is forming today will reshape what we're getting after and how we support air power throughout the world," Gallagher said. "We're more than any law enforcement agency. Our biggest mission is getting after our peer-peer, near-peer global competitors. Change is coming."
Story by Debbie Aragon, Air Force Installation and Mission Support Center Public Affairs
Photos by Airman 1st Class Isaiah Pedrazzini