The Pull-Line Master was built for dismounted EOD operational requirements for quickly and effectively conducting remote pull procedures on suspicious items or ordnance. The kit includes 200 feet of Dyneema pull-line and a full complement of clamping, rigging, and cutting tools designed for quick attachment of the pull-line, decreasing time-on-target and limiting exposure to dangerous overpressure and fragmentation hazards. It also includes an additional 100 feet of pull-line and a smaller pouch for a reduced loadout as well as a hazard marking system suitable for day or nighttime use. The kit is PALS compatible.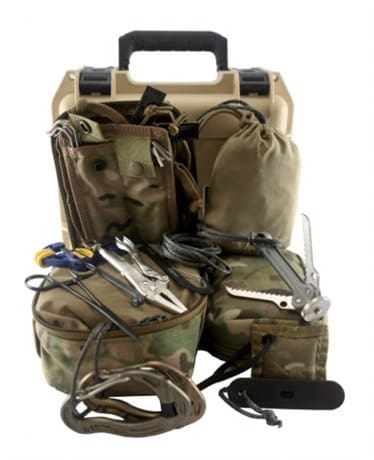 Components:
(1) 200′ 7/32″ dyneema pull line
(1) 100′ 7/32″ dyneema pull line
(1) Titanium Grapple (TiGR)
(1) Hard storage case
(1) Large carry pouch
(1) Small carry pouch
The TiGR is Zero Point's Titanium 3 Tine Grapple Hook. Each TiGR is tested to 1000 lbs pull before fielding.
Weighing in at 1.5 lbs, the kit is available in the following colors:
Coyote Brown
MultiCam
Ranger
Cop Black
ARID
www.zeropointusa.com/government-systems/access/pull-line-master