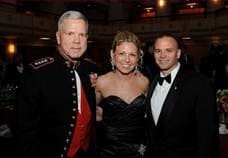 Source One Distributors Inc., a leader in tactical gear distribution, recently announced support for the Marine Corps-Law Enforcement Foundation (MC-LEF). Source One CEO & President Mark Llano and Director of Operations Lori Stanek both attended the foundation's Sixteenth Annual Gala at the Waldorf-Astoria in New York City following a donation of $3000.00 to MC-LEF.
MC-LEF's mission is to encourage the spiritual, moral, intellectual and physical development of children through education. Founded by former Marines and law enforcement personnel, MC-LEF provides scholarships to children of Marines and federal law enforcement officers who have lost their lives in the line of duty. To date, the MC-LEF has distributed aid with a value of more than $50,000,000.00 to eligible children.
This is great and we are happy to see Source One Distributors support MC-LEF. It's an organization that bridges both military and LE.