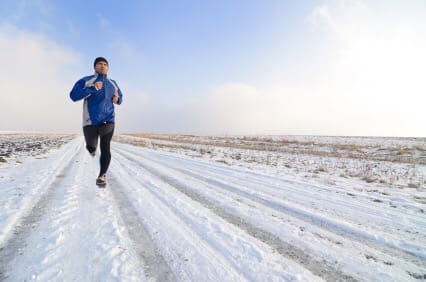 No doubt this has been a harsh winter, for snow and cold, one of the worst in many years. Now obviously the northern states, especially the northeast has taken the brunt of it, with cold weather records being broken almost daily. The fact is it's been a cold year all over the country, even down here in the Florida Panhandle. Morning temps for the past few months here routinely have been in the low 30's, and with the wind coming off the ocean, it's pretty nippy. This is my favorite time to run, 0 dark thirty, cold as hell and windy. Just something about it motivates me and (after I get going) a great workout.
However if you listen to most people around here, the thought of doing anything out in the cold is equivalent to low crawling through broken glass. No way, not happening. The attitude is unless it's perfect weather out, I'll hit the gym. This speaks to something that I've noticed as a society in recent years, that we've kind of fallen into this "Goldilocks" syndrome, where everything has to be "just right." It just seems that now-a-days many people seem hyper sensitive to outdoor weather and indoor temps also. My students here at the school house will complain in a hot second if the temp in the classroom is just a few degrees above or below ideal.
With that, it seems people are sick more than they used to be. Here at my work there is always something going around, someone is always coughing, or going to the doctor for something and then always returning with a big jar of meds. My own personal opinion on this is that people spend far too much time in climate controlled "bubbles." Far fewer people work out of doors and much less recreation and sports are played outside also. Seems that life itself has moved indoors? We go from the AC in our home, to AC in our cars, to the AC in the office, etc. It seems that we can't function in anything but this sterile environment. The same goes for gyms. Which not only have to be climate controlled, but also have more alcohol wipes and hand sanitizer than an Ebola crisis center? At times they seem more like a hospital than a gym. I think all of this has lead to a weakening of immune systems, both the physical and mental aspect of our ability to deal with anything less than perfect conditions. That is a issue, as the world isn't always the perfect place.
As a counter to this I think we all spend enough time shining a chair with our ass and need to get outside as much as possible, and that especially goes for exercising. I have ran and done other workouts in extremes of both hot and cold, and if you prepare yourself properly (clothing, hydration, etc) you can have a great workout, IMO much better than indoors, both physically and attitude wise. So don't let a little snow or cold scare you, "get out in it" when you can. Like your mom used to tell you, go outside and play. Its good for you. Take care and be safe.
Semper Fi
MGunz
Corps Strength