Posts Tagged 'Mayflower Research and Consulting LLC'
Friday, January 15th, 2016
Thursday, January 14th, 2016
The 30L Summit Pack was designed to fill the gap between the short duration 24HR Assault Pack and a full size rucksack. Combining features of technical climbing packs and traditional military three-day packs it is meant to fill the 48-72 hour roll.
Features include: internal frame sheet and ergonomically shaped aluminum wire frame. Top loading, PALS panels on the sides, top pocket with small internal electronics pocket and two daisy chains. Two hip climbing gear attachment loops, two top hauling handles, internal Velcro panels for gear organization and a water bladder pocket. Webbing on top for attaching crampons of other equipment, attaching points to attach the Mayflower Helmet Carrier accessory piece.
Available colors are: Multicam, coyote brown, ranger green, black, wolf grey, desert digital and select civilian colors.
Thursday, September 24th, 2015
THE NEED:
A plate carrier that accommodates USSOCOM issued MBAV soft armor and SAPI plates. Must feature high degree of scalability, modularity, PALS webbing, QASM compatibility, while maintaining the fundamentals of simplicity in wear and maintenance.
THE SOLUTION:
OPT's owner approached Mayflower about making simple modifications to the time proven, simple design of the APC. This is an APC sized to hold MBAV soft armor and SAPI plates, with added features of a removable front flap that exposes a pile tape belly area that easily accommodates any QASM compatible placard or chest rig, and updated slim shoulder pads with thin foam padding and stretchable tweave covering.
THE OUTCOME:
An affordable, highly modular, armor carrier, that provides any USSOCOM Operator with a high degree of load flexibility, and mobility; whether in training, or on the battlefield.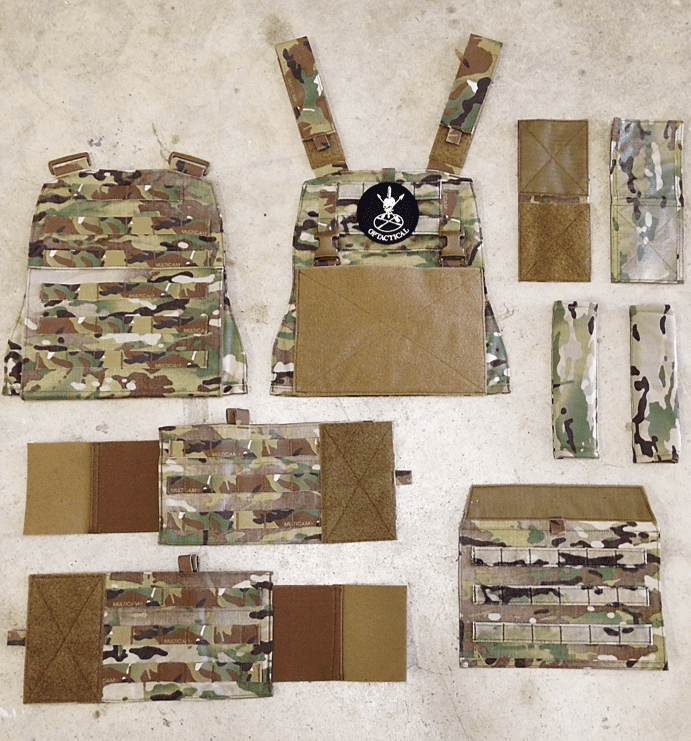 Available in Coyote, Ranger Green, MultiCam and MultiCam Tropic.