At Modern Day Marine the WL Gore & Assoc booth has traditionally been about organizational clothing and individual equipment but with an ever increasing emphasis on CBRNE, Gore brought out its latest CHEMPAK technologies. Created as an alternative to traditional carbon fabric suits, Gore has incorporated not only new, breathable membranes, but also innovative design features to enhance the garment's functionality and by extension, the comfort and endurance of the wearer.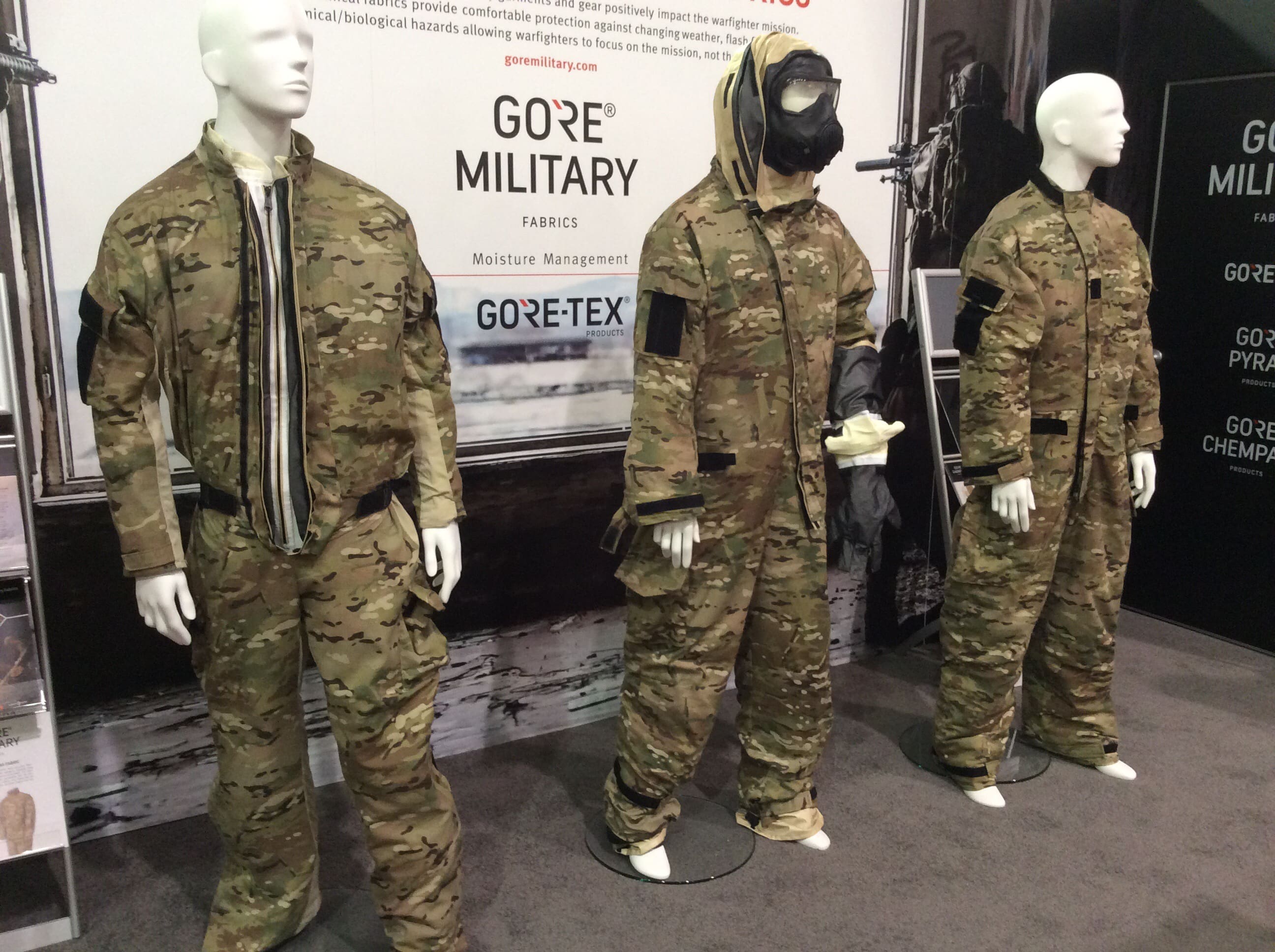 They displayed three different suits. Although they all look similar, and are based on the same technology, they offer different sets of features. Named the CPCSU-2 Chemical & Biological Protective Combat Suit family, they are based on work done for SOF Chem-Bio suits and designed for a wide range of mission sets including combatting WMD, military humanitarian support operations and military support of civilian authority operations.
CPCSU-2 with Integrated Optional MOPP Scale Hood & Gloves
Providing durable, broad protection, it is easy to don and offers MOPP interfaces to the suit. When compared to traditional carbon suits, the CHEMPAK material improved heat loss by more than 20 percent.
CPCSU-2 Flex Fit Design
This Flex Fit design was created for increased range of motion and lower audible signature. The thermal burden in this suit is also lower than others.
CPCSU-2 Jumpsuit Design
This suit was designed for affordability. Consequently, it doesn't incorporate some of the features of the other two suits. However, thanks to the CHEMPAK membrane, the thermal burden remains lower than carbon suits.
Design Features
Gore has done some great work on these suits. Those of you who are divers may see some familiar concepts from dry suits. However, the features below may not be available for all of the suits.
Many of you are familiar with Gore-Tex TOPO fabric, a recently introduced stretch membrane for protection from the elements. The CHEMPAK suits integrate a similar stretch technology. These are incorporated as panels into key areas of the coverall to ensure flexibility while maintaining integrity of the suit's environment. In all three cases, these are coverall designs which decrease the possibility of contamination via a compromised suit.
Another example is this glove interface which allows the wearer to quickly transition from MOPP 3 to 4 by pulling his hands in and inserting them into the attached gloves. Then, the user simply rolls up the opening and secures it with Velcro to seal it off and stows it under the cuff.
The CPCSU-2 also offers a removable hood which integrates into the suit as well as the mask. The advantages here are obvious; there's no entry of outside air under gaps in the skirt of the traditional external hood. The membrane will also breath better than the rubber hood traditionally used with protective masks.
Finally, the legs of the CPCSU-2 open up to facilitate donning, yet close easily. Here, you can see the stretch material.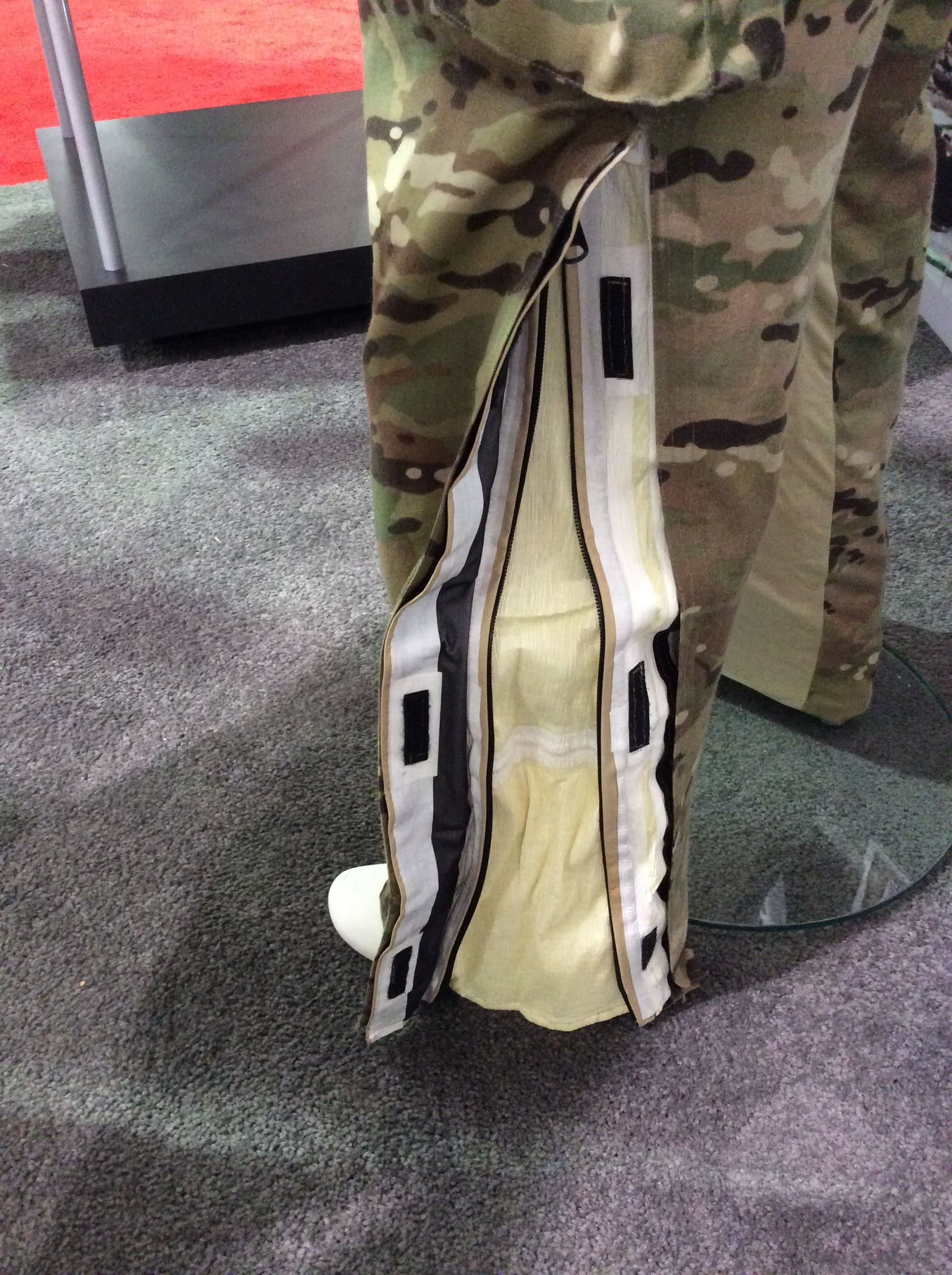 You may notice that the outer shells are removable. This is for maintenance as well as allowing the user to change his 'paint job' based on the environment he will be working in. In addition to environmental camouflage patterns, the user can select solid colors for low profile work or high visibility hues for disaster relief. Additionally, the user can specify different face fabrics for the shell. For example, full FR protection, no melt/no drip or anti-static are different shell fabric options.
Finally, independant testing shows that the CPCSU-2 family is lighter and lower unpacked volume than carbon-based suits.
For more information, visit www.goreprotectivefabrics.com.