The US Army has just announced that it has selected SIG SAUER under an Other Transaction Agreement to provide their SPEAR and Lightweight Machine Gun as the new XM5 Rifle and XM250 Automatic Rifle. Both fire a hybrid cased cartridge in 6.8 x 51mm which features a steel head and brass case firing a government provided projectile. This cartridge offers similar performance to .270 Win Short Mag. The 6.8 Common Cartridge Family of Ammunition will be manufactured by Winchester at Lake City Army Ammunition Plant.
The Army selected the SIG SPEAR which is a large frame version of the MCX Carbine used by US and foreign SOF and features selective fire and ambidextrous controls. The new beltfed machine gun is lighter than the currently issued SAW and has a lower recoil impulse than the M4 Carbine. It's a joy to shoot. Additionally, the system includes suppressors for both weapons. Rumor has it the contract ceiling has room to buy over 500,000 rifles and almost 80,000 beltfed machine guns over a 10-year period.
The Army has also put out feelers to industry, seeking manufacturers for conversion kits for the existing 7.62 NATO M240 beltfed Machine Gun to 6.8mm.
The road to the selection of a NGSW system was started about five years ago with a short lived quest for an Interim Combat Service Rifle in 7.62 NATO which quickly morphed into the search for 6.8mm weapons to replace the 5.56 NATO M4 Carbine and M249 Squad Automatic Weapon in close combat formations which include Infantry, Cav Scout, and Engineer squads.
Both USSOCOM and US Marine Corps are monitoring the program. It will be interesting to see how this affects SOCOM's 6.5 Creedmoor-based initiatives. As for the Marine Corps, word is that they would only transition away from their H&K produced 416 rifles, named the M27 if it were to a bullpup platform.
An OTA for a Fire Control System to enable NGSW was awarded to Vortex Optics in January.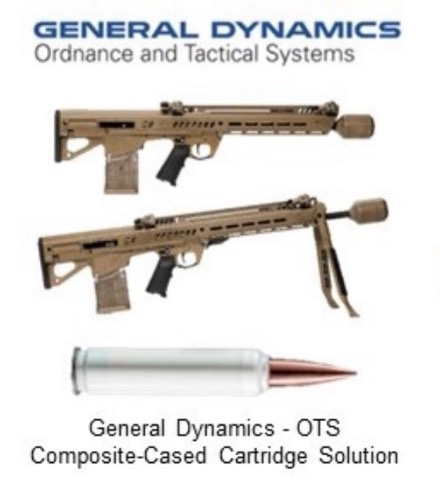 The other system under consideration by the Army for NGSW was from True Velocity which proposed a polymer cased ammunition and bullpup Rifle and Automatic Rifles. This would have been a shoe-in for the Marines if those rumors I mentioned earlier are true.
Between the two options many in industry considered SIG a lower risk and the "Easy Button" as the ammunition technology is very straight forward and can be manufactured using existing machinery. Additionally, the weapons will seem quite familiar to service members who currently use the M4 and M249 due to similar controls and ergonomics. Finally, SIG has undertaken several successful military contracts for ammunition, optics, and weapons, including the Modular Handgun System.
The Army now faces the arduous task of putting this new ammunition and weapons through developmental and operational testing and determining how their increased range and lethality will affect employment of the close combat squad. Expect some teething pains, but also look forward to the opportunities that come with a new weapon and cartridge.
SIG also plans to offer their ammunition (.277 SIG FURY), Rifle and suppressor commercially.
To wrap things up, I'll just say that this article from earlier today didn't age well. A lot of people thought the Army would cancel this program. They didn't, and they are moving ahead with it. If you're one of them, its time to go through the stages of grief and make it to acceptance. This is happening.