The bad boys at G&R Tactical shared this image of promotional literature for a new RMR Type 2. It's now available on Trijicon's website.
According to the product sheet, Trijicon has improved the battery contacts. Additionally, there's a button lockout mode as well as a battery conservation mode which auto adjusts to ambient lighting conditions after 16.5 hours of inactivity.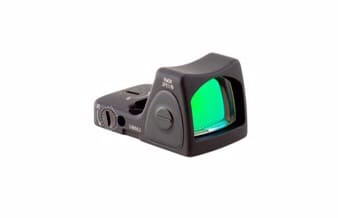 As far as settings go, there are eight settings, including two night vision and one super bright setting. The CR2032 battery will last for four years on brightness setting four, or for five years in dark storage.
Finally, the RMR Type 2 still features a 3.5 moa dot. Their unique housing shape also resists damage to the glass in the event it's dropped and the RMR Type 2 is still waterproof to 20m. And yes, it is compatible with all current RMR mounting solutions.