Beretta debuted their New Assault Rifle Platform at DSEI. NARP is a short stroke piston platform with two gas position settings for normal and suppressed.
Currently chambered on 5.56 NATO, the representative assured me that other calibers are coming, including a scaled up 7.62 version.
It is fully ambidextrous and utilizes an AR-style rear charging handle. In addition to the M4-style collapsible buttstock, it will also accept a side folder.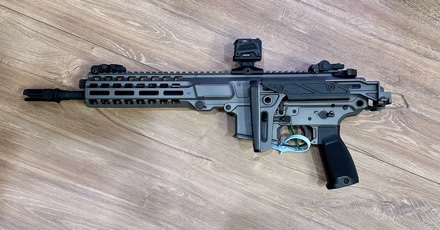 There are currently three barrel lengths, 11.5″, 14.5″ (not shown in these photos), and 16″.
While they would not show me the internals, I was told that NARP features a lubricant free coating.
The max o/a LE th with a 14.5″ barrel and extended stock is 34.9″ and 31.7″ with the stock collapsed.