CAMP LEJEUNE, N.C. – Instructors with Marine Forces Special Operations Command recently hosted the final phase of training for prospective Marines working toward becoming multi-purpose canine handlers for the command, Oct. 1-20, 2023.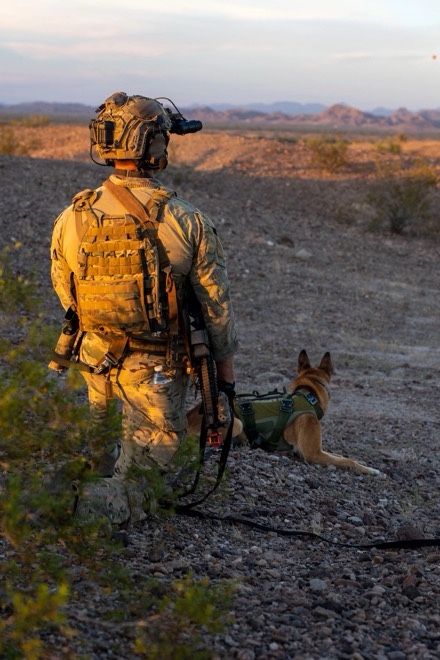 The course, which is also used as continuing education training for senior MPCs and handlers, encompasses all aspects of requisite skills that a special operations capability specialist needs to be successful while attached to a Marine Special Operations Company. Everything from tactical movements to engaging enemy combatants is done with the canines right by the side of their handlers.
The portion of the course known as the desert package culminates all of the training the handlers and canines had been through while also shifting the environment to one that is unfamiliar.
"We have individually done all of the things we are being asked to do here," said a student handler. "The change in environment, to something you just won't see in North Carolina, challenges us to put it all together and really make sure we understand our dog and their personality."
MPCs and handlers within MARSOC have a high bar to achieve. In addition to being the only special operations component that uses subject matter experts in canine handling to work on the teams, the canines themselves have more asked of them than normal.
"MARSOC really sets itself apart because we train to proficiency in all three facets of canine work," said a senior MPC handler. "all of our dogs are capable of apprehension, or bites, explosive detection, and tracking, requiring a higher level of training"
To be able to accommodate the heightened requirements for the MPCs, the handlers are trained differently as well.
"Our handlers are not just handlers, they are trained to be trainers," an MPC handler added. "There is a level of knowledge that goes beyond just working with the dog. Our handlers are capable of going to a partner nation and training their dogs and handlers to proficiency as well."
Upon successful completion of the training pipeline, both students and canines are fully certified to be a working MPC team. Those teams then continue preparations to join a company and eventually deploy alongside critical skills operators and special operations officers on a team.
The multi-purpose canine handler pipeline is open to those within the 5800 military police occupational field. Interested Marines should reach out to a MARSOC recruiter to learn more about the opportunity.
Story by Cpl Henry Rodriguez II
Marine Forces, Special Operations Command