PORTLAND, OREGON (May 31st, 2018) – Gerber, a leading manufacturer of knives, tools, and equipment will introduce the latest edition of the G1 Series of custom knives, the G1-002, at the 2018 Blade Show in Atlanta, Georgia. An industry pioneer, Gerber has been crafting world-class knives and tools for decades and first introduced the G1 Series in 2017 to showcase the craftsmanship, design, and skill that are ongoing components of the brand's robust American manufacturing.
Each year, Gerber plans to introduce a new addition to the G1 portfolio that will showcase elevated materials, processes, and technologies. The series serves to fuel the future development of production-caliber products, serving a large market of both professional and recreational users. As the second edition in the G1 Series, the G1-002 pays homage to a Gerber legend: the Mark II combat knife. The G1-002 is a distinct combination of premium materials and processes, buttressed by collaborations with two innovators in the knifemaking and shooting industry: Zev Technologies and Blackpoint Tactical.
"The G1-002 is not only a re-make of the heralded Mark II, it's an overhaul. Wielding an S60V blade, a custom-machined handle from Zev Technologies, and a multi-mount Kydex® sheath from Blackpoint Tactical, the G1-002 is both a functional tool and a collector's item" says Karrson Koivisto, Product Manager at Gerber. "First introduced in 1966, the Mark II is recognized as the benchmark for combat knives and stands as a piece of battlefield and knifemaking history."
At the Portland, Oregon headquarters, Gerber engineers provided insightful design, informed engineering, precise machining, and first-class execution to bring the G1-002 to life. The team then turned to Zev Technologies – An innovator in high-quality firearm components for pistol, rifle and AR platforms – for a uniquely functional custom-machined handle with Cerakote® coating. Blackpoint Tactical was recruited to build a custom Kydex® sheath fitting of an undeniably legendary blade.
All aspects of the G1-002 were meticulously considered, sourcing first-class materials and leveraging both the master craftsmanship of Gerber's manufacturing facility as well as the expertise of two premium partners. Proudly designed and made in the USA, each of the 100 hand-built G1-002 knives underwent a laborious multi-stage process, accumulating dozens of hours in production, processing, and assembly. Each knife is hand assembled, double inspected, and serialized for collection.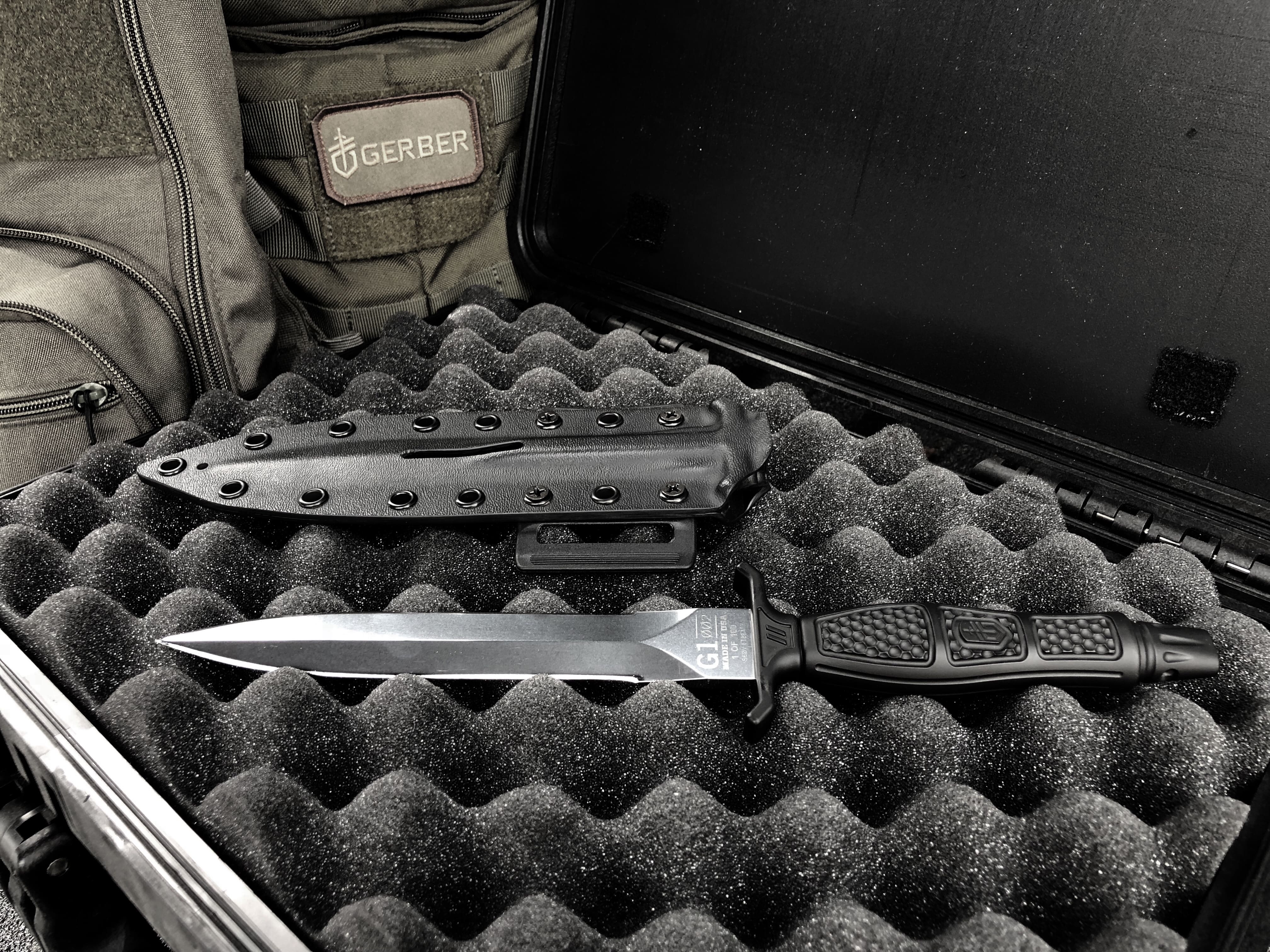 The ultra-premium S60V blade is the foundation of the G1-002. Gerber finished the spear-point blade with a highly polished and full fine edge, presenting a marked departure from the original Mark II's blade. Zev Technologies applied a machining pattern inspired by their renowned stippling, typically applied to Glock pistols – resulting in a unique aesthetic and supreme grip. Blackpoint Tactical heeded the call for a custom Kydex® sheath with vertical or horizontal belt carry options and boasts click-in retention.
Visit the Gerber booth at the 2018 Blade Show to purchase the G1-002, a limited number will be for sale on site. It will also be available for purchase directly on Gerber's website – retail price for the G1-002 is $400.00.
Proceeds will benefit the Special Operations Care Fund [SOC-F] which provides medical, financial, and other support to SOF members and their families in ways that are often not met through other sources.
The G1-002 has also been nominated for a "Knife Collaboration of The Year" award at the 2018 Blade Show.
Learn more about AKTI: www.akti.org
See more from Gerber: www.gerbergear.com