Meet the MOLLE 4000. Developed by Natick Soldier Systems Center to satisfy a requirement for an airborne rucksack for the 82nd Airborne Division, it enters safety certification next month. Lead developer Rich Landry is a Veteran of the 82nd and has been instrumental in work on several airborne items over the years.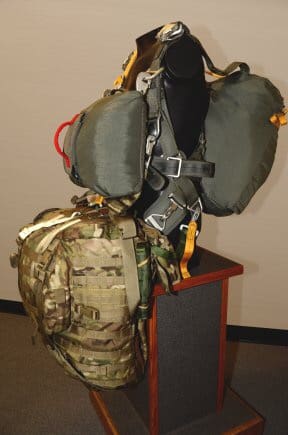 To create the MOLLE 4000, Landry combined the short MOLLE frame adopted by the Marine Corps but originally developed for Army paratroopers and created a new 4000 cu in bag for it. He also envisioned a new, removable single point release. This was the critical piece. Until now, you either rigged your pack with the Harness, Single Point Release, which is a separate item, prone to loss after a jump or you carried a pack with sewn-in air items. The latter option results in increased cost per pack and you are stuck lugging around the extra weigh whether you are jumping or not. Additionally, such specialty packs aren't appropriate for issue to other forces due to that additional cost and weight. Instead, Landry has come up with a hybrid solution which quickly attaches and detaches from the pack. This saves both rigging time and weight, once he gets on the ground, for the paratrooper.
Bob Reinert of the Natick Public Affairs Office wrote a great story on the project. It's definitely worth a read. www.army.mil/article/141297.