New Inside-the-Waistband Nylon Holster is Moldable to Virtually Any Handgun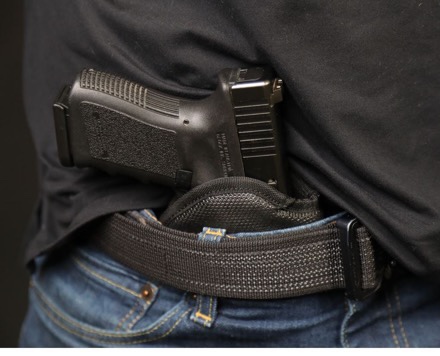 VIRGINIA BEACH, Va. – January 18, 2022 – Blackhawk®, a leader in law enforcement and military equipment for over 20 years, announces the introduction of its new TecGrip FormLok™ IWB holster, the industry's first nylon holster that can be custom molded to fit almost any handgun. The TecGrip FormLok makes for a straightforward and simple concealed carry solution with all the TecGrip performance shooters know and love, but now with more passive retention and a customized fit.
Finding a compatible holster with today's wide variety of available handguns can be a daunting task, especially for certain handguns like Walther, SCCY, Taurus and others, or for guns with special configurations such as threaded barrels and optics. TecGrip FormLok makes finding the right holster easy, no matter your handgun.
The TecGrip FormLok is crafted with moldable Memory-Lok® material which, when used with the included "dunk bag" and T-handle molding tool, allows a user to mold the holster to fit their specific handgun and leverage passive (friction) retention. The holster is also re-moldable. Consumers who buy a similar sized handgun later, can simply re-mold the FormLok to the new gun. The holster can also be molded to accept optics with its low-cut front sight track channel.
The exterior of the holster is covered in a textured material which clings to fabric and the body, providing users with a no-clip, inside-the-waistband carry solution. Optics compatible, the TecGrip FormLok utilizes low-cut, sight-track geometry that maintains a slim design. The holster is also completely ambidextrous and comes with a low-profile shirt guard to make it a more flexible and comfortable carry option for any shooter.
With six sizes available to fit a wide spectrum of handguns from micro sub compacts to full-sized autos, all TecGrip FormLok models have an MSRP of $54.95. The new holster will be shown publicly for the first time during the 2022 SHOT Show and will be available at retail this April. To learn more about the TecGrip FormLok or other Blackhawk holsters, check out Blackhawk.com.